Stocks Drop After Rally as Commodities Slip, Euro Rises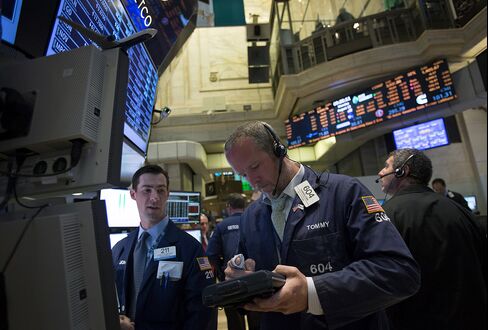 Stocks fell, with the Standard & Poor's 500 Index halting its longest rally since 2010, and commodities declined amid concern about slowing Asian growth. The euro gained as Italy sold all the debt it planned at an auction and Greece's economy shrank less than forecast.
The S&P 500 lost 0.1 percent to 1,404.11 and the Stoxx Europe 600 Index declined 0.4 percent at 4 p.m. in New York. About 4.5 billion shares changed hands on U.S. exchanges, the slowest full-day session of the year. Even as stocks fell, the cost of options to protect against further declines in the S&P 500 slid to a five-year low. Cocoa, soybeans and Kansas wheat lost at least 2.4 percent to lead commodities lower. Treasuries were little changed. The euro added 0.4 percent to $1.2338.
The S&P 500 retreated after six straight gains, its longest advance since December 2010. The index had rallied for five straight weeks and rebounded 10 percent from a five-month low on June 1, closing on Aug. 10 at the highest level in four months. Today's decline followed data showing a slower-than-forecast expansion in Japan's economy and a reduction in Bank of America Corp.'s growth estimate for China.
"The markets have come a long way in a reasonably short period of time, so we could see maybe a couple of weeks of sideways, consolidation activity," Jim Russell, the Cincinnati-based chief equity strategist at U.S. Bank Wealth Management, which oversees about $104 billion, said in a phone interview. "A lot of people are on vacation, volumes seem to be very low. We can see this week being a fairly quiet one."
Gauges of commodity, health-care and utility companies lost at least 0.4 percent for the biggest declines among the 10 main groups in the S&P 500 today. Trading of companies in the benchmark index was about 30 percent below the average over the last 30 sessions. The Chicago Board Options Exchange Volatility Index, the benchmark gauge of options prices known as the VIX, sank 7.1 percent to 13.70, the lowest since June 2007.
Market Leaders
DuPont Co., Alcoa Inc. and Cisco Systems Inc. slid more than 1 percent for the biggest losses in the Dow Jones Industrial Average, which decreased 38.52 points to 13,169.43.
Treasury 30-year yields rose less than one basis point to 2.75 percent. The Federal Reserve's primary dealers offered fewer than average of the securities for sale as the central bank bought $1.83 billion of longer-maturity debt. Ten-year yields increased 0.5 basis point to 1.66 percent.
The Stoxx 600 slipped after capping 10 weeks of gains, its longest rally in six years. Julius Baer Group AG dropped 7.4 percent after agreeing to pay about 860 million Swiss francs ($879 million) to buy the wealth-management business outside the U.S. of Bank of America's Merrill Lynch unit. Nokia Oyj retreated 6 percent as Danske Bank A/S said the mobile-phone maker may soon sell new shares.
Italy Auction
Italy sold 8 billion euros ($9.8 billion) of one-year bills at a yield of 2.767 percent, up from 2.697 percent at the previous auction. Investors bid for 1.69 times the amount of 364-day bills offered today, up from 1.55 times on July 12. Italy's 10-year bond yield was little changed at 5.90 percent.
The euro gained against all 16 most-traded counterparts, advancing 0.5 percent against the yen and gaining at least 0.9 percent versus the currencies of Australia, Sweden and South Africa.
"Demand held up well" at Italy's auction, Nicholas Spiro, managing director of Spiro Sovereign Strategy in London, said in an e-mailed comment. "Borrowing costs more or less held steady, which, all things considered, is probably not a bad result."
Greece's economy contracted 6.2 percent in the second quarter, compared with 7 percent forecast in a Bloomberg survey.
Oil swung between gains and losses during the day, closing down 0.2 percent at $92.73 a barrel in New York. The S&P GSCI Index of commodities slipped 0.4 percent as 20 of 24 commodities tracked by the index advanced.
Commodity Bets
Hedge funds trimmed bets on a commodity rally for the first time in nine weeks as signs of U.S. growth and speculation that central banks will do more to stimulate economies drove prices to a three-month high.
Money managers lowered their net-long positions across 18 U.S. futures and options by 1.9 percent to 1.2 million contracts in the week ended Aug. 7, U.S. Commodity Futures Trading Commission data show. The decline ended eight consecutive weeks of gains, the longest streak on record. Soybean wagers dropped by the most since early June just as prices surged for three days and reached a two-week high.
The MSCI Emerging Markets Index dropped 0.6 percent after four weeks of gains. The Shanghai Composite Index lost 1.5 percent, the most in four weeks, as Bank of America cut its 2012 growth forecast for China to 7.7 percent from 8 percent. South Korea's Kospi Index slipped 0.7 percent.
'Rather Wait'
China's economy will slow "considerably," said Marc Faber, the publisher of the Gloom Boom & Doom report, who is buying European stocks.
"The growth rate we had in the last 10 years, which was around 10 percent annually, is going to slow down considerably," Faber told Tom Keene and Ken Prewitt in a "Bloomberg Surveillance" radio interview today. "I would rather wait to buy Chinese stocks until we see the result of the stimulus packages."
Japan's Cabinet Office said today the nation's growth slowed to an annualized 1.4 percent pace in the three months through June. The median forecast of economists surveyed by Bloomberg was for 2.3 percent growth.
Before it's here, it's on the Bloomberg Terminal.
LEARN MORE