State Bank of India Drops; Profit Clouded by Bad Debt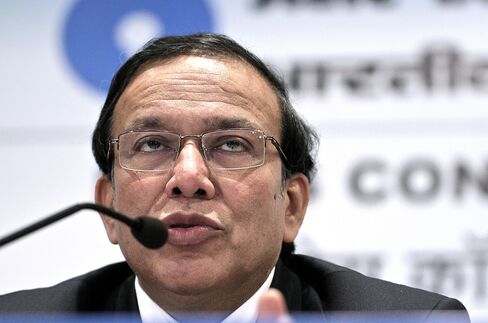 State Bank of India, the nation's largest lender, fell in Mumbai trading as an increase in the loan-default ratio amid an economic slowdown overshadowed first-quarter profit that had more than doubled.
Net income climbed to 37.5 billion rupees ($677 million), or 55.91 rupees a share, for the three months ended June 30, from 15.8 billion rupees, or 24.94 rupees, a year earlier, the Mumbai-based bank said in a statement to the exchanges today. The median estimate of 33 analysts in a Bloomberg News survey was 36.8 billion rupees.
Shares fell to the lowest in almost three months on concern that India's weakest growth in nine years may further boost bad debts and erode the state-run lender's profits. The least monsoon rains since 2009 in India also raises the specter of a drought, souring loans to farmers, which form 13 percent of the bank's total advances.
"Asset quality remains a major concern," said Vishal Narnolia, a Mumbai-based analyst at SMC Global Securities Ltd. "A large part of the new bad loans should be from agriculture and loans to companies. We remain skeptical regarding the bank's ability to bring down bad loans in rest of the year."
The stock fell 4.1 percent to 1,887.75 rupees, the lowest since May 17, at close in Mumbai. Its 17 percent advance this year failed to match the 30 percent gain in the 14-stock Bankex Index, a gauge for banking stocks in the country.
Economic Slowdown
India's central bank on July 31 cut its forecast for expansion in the $1.8 trillion economy to 6.5 percent in the 12 months through March, from an earlier prediction of 7.3 percent. Economic expansion slowed to a near-decade low of 5.3 percent in the three months ended March as Europe's debt crisis curtailed exports while investments slowed and inflation accelerated.
State Bank's gross bad loan-ratio expanded to 4.99 percent during the quarter from 3.52 percent a year earlier. The figure may shrink to 4.75 percent during the current quarter, Chairman Pratip C. Chaudhuri told reporters in Mumbai today. The bank will focus on recovering payments from defaulters and will take steps to prevent further souring of debt, he had said in May.
"We should be seeing strong recovery of bad loans in the second and third quarter," Chaudhuri said. "High net profits are the new norm."
The lender may have a "high level" of restructured assets, or loans whose terms have been amended to avoid defaults, for the year ending March 31, Spark Capital Advisors said in a note to clients on July 23. It had 427 billion rupees of such assets as of March 31, according to an exchange filing.
Indian lenders should more than double provisions for restructured loans, a panel set up by the central bank recommended on July 20.
Lending Margins
The 206-year-old lender's total outstanding advances increased by 20 percent to 9.46 trillion rupees at the end of June from 7.88 trillion rupees a year earlier.
Net interest income, or revenue from lending minus payments on deposits, rose 15 percent to 111.2 billion rupees, State Bank said in the e-mailed statement. The net interest margin, a measure of the lending profitability, was 3.57 percent during the quarter and will probably be 3.75 percent for the fiscal year, Chaudhuri reiterated today.
Loan growth "has been rather muted" in the three months through June, though there is "strong demand" for foreign currency loans, Chaudhuri said on June 27. The lender cut interest rates for corporate borrowers on June 15 and loans to individuals on Aug. 2 to revive domestic credit demand. It also sold $1.25 billion in bonds in July to meet the demand for foreign-currency loans.
Credit-default swaps for State Bank fell 84 basis points this year to 311 basis points yesterday, according to CMA, which is owned by CME Group Inc. and compiles prices quoted by dealers in privately negotiated markets. The swaps may pay face value for the underlying debt should a company fail to adhere to its agreements. A basis point is 0.01 percentage point.