San Bernardino Says Calpers Is Largest Unsecured Creditor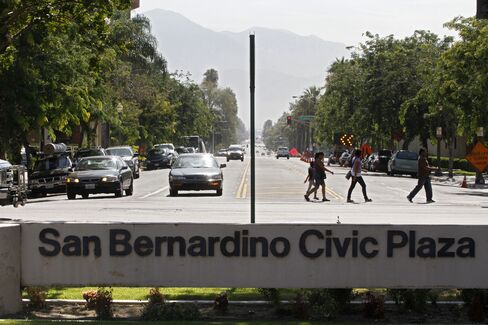 San Bernardino, the third California city to seek bankruptcy protection since June, listed the state's Public Employees' Retirement System as its biggest unsecured creditor, owed about $143.3 million, according to a bankruptcy court filing.
The city also asked the court to set a deadline of Sept. 21 for creditors to challenge San Bernardino's eligibility to seek bankruptcy protection. The court has scheduled Oct. 3 for a status hearing on any objections it receives, while a first hearing on the city's bankruptcy case is yet to be held.
San Bernardino showed the amount owed to Calpers for its unfunded pension costs in a filing of its 20 largest unsecured creditors, which collectively are owed about $281.4 million. The city also owes about $46.1 million on pension obligation bonds, and $3.3 million is owed to Public Agency Retirement Services of Newport Beach, California, for unfunded pensions.
Unsecured debt related to pensions totaled about $192.8 million, according to court documents.
San Bernardino filed for municipal bankruptcy Aug. 1 after disclosing a $46 million shortfall in the city's budget. The city of 209,000 about 60 miles (97 kilometers) east of Los Angeles, listed assets and debt of more than $1 billion in a filing with the U.S. Bankruptcy Court in Riverside, California.
The case is In re San Bernardino, 12-28006, U.S. Bankruptcy Court, Central District of California (Riverside).
Before it's here, it's on the Bloomberg Terminal.
LEARN MORE