Barclays Sees Oil-Refining Tie-Ups Adding to Essar Deal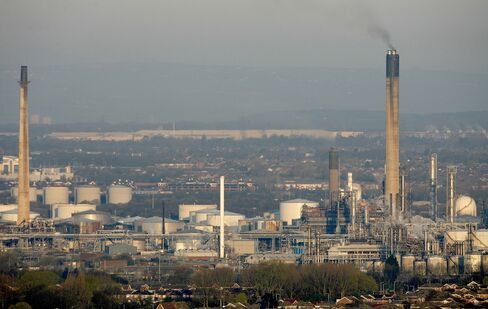 Barclays Plc, the bank which agreed to buy and hold $700 million worth of stockpiles at Essar Energy Plc's U.K. plant to reduce overheads, expects more arrangements with European refiners struggling with tightening credit.
Britain's second-biggest lender by assets struck an accord last month to manage oil inventories for three years at Essar's 296,000 barrel-a-day Stanlow plant in northwest England. Refiners are seeking to cut working capital costs as declining regional demand for fuels such as gasoline pinch profit margins.
"It's a growing trend in the refining space because of weak margins and the need to secure credit," John Eleoterio, global head of commodities structured origination at Barclays, said in a phone interview from New York. "We anticipate a few more transactions within the next six months," he said, declining to identify the refiners.
International oil companies have been selling European plants over the past five years, converting some into storage terminals, amid falling demand and competition from lower-cost facilities in Asia. The 2009 recession has left refiners struggling with credit, including Petroplus Holdings AG, Europe's largest independent oil-processor by capacity, which was forced into insolvency earlier this year.
Growing Appetite
"I could see quite a bit of appetite by other refineries, particularly independents, that would see this as a very good strategy to pursue because you reduce your capital intensity," Volker Schultz, chief executive officer of Essar Oil U.K. Ltd., a unit of Essar Energy, said in a July 30 interview in London. These transactions will also help them achieve operational flexibility, he said. Essar Energy is owned by Mumbai-based Essar Group.
Barclays agreed on July 25 to buy crude and retain ownership of oil products at Essar's plant, allowing the refiner to repay loans as less of its money is tied up in inventories. The move is the first of its kind in Europe, the two companies said, following similar agreements in the U.S. by banks such as Goldman Sachs Group Inc.
Lending to European companies shrank 32 percent this year to $336 billion from the same period in 2011, according to data compiled by Bloomberg. Loans to energy companies accounted for $25 billion of the total, a 24 percent decline from a year ago.
Managing Inventory
"Managing feedstock procurement and inventories for refiners gives financial players a stronger exposure to the physical market, which would strengthen the role of their trading desks," David Wech, head of research at Vienna-based JBC Energy GmbH, said in a July 26 phone interview.
Barclays is looking to expand its physical oil trading, Eleoterio said on July 25. The bank employs more than 20 people on its crude desks in Houston, London and Singapore, he said.
Essar bought the Stanlow plant, the U.K.'s second-largest facility, from Royal Dutch Shell Plc in 2011 for $350 million and paid an extra $824 million for inventories. The original arrangement meant Shell would supply most of the crude for the site under a five-year contract and would purchase the refined products, Essar has said.
Under the new arrangement, Barclays will buy and own the inventories on site, currently valued at about $400 million for crude and $300 million for products, Andrew Turpin, an Essar spokesman based in London, said on July 25. Feedstocks will be supplied by the bank to Essar on a "just in time" basis and priced daily, he said.
'Significant Savings'
"That gives us significant savings as previously we had capital tied up in inventory," Turpin said by phone. Shell will continue to supply crude for the site and buy refined products, with Barclays acting as the middleman on both sides.
Jonathan French, a London-based spokesman for Shell, confirmed the company now has an "exclusive crude supply agreement" with Barclays.
Essar will pay a fee to Barclays which is "significantly lower than the interest the company was paying under its previous working capital arrangement," Turpin said. The deal isn't a classic "tolling" arrangement because Essar still decides which crudes to buy and how much, rather than acting as a processor at the behest of its supplier.
"From the refiner's point of view, any way of cutting working capital will be helpful on margins," Roy Jordan, a consultant at Facts Global Energy Inc., said on July 26 by phone from London. "Refiners in Europe generally face the prospect of weak margins in the coming years and some of the smaller independents, such as in Italy, may be attracted by such financial arrangements."
Refiner Profits
Refiners in Italy have been particularly hard hit by overcapacity and a drop in demand. Tamoil SA closed its plant in Cremona last year while Eni SpA said in mid-April it will halt operations at its Gela facility for one year. ERG SpA said yesterday in its half-yearly earnings report it will cut its exposure to refining by reducing equity ownership in its ISAB refinery in Priolo by half to 20 percent as of September. Russia's OAO Lukoil is its partner in the venture.
Separately, ERG is also closing a joint venture refinery with Total SA in Rome and converting it into a storage facility this quarter. An ERG official wasn't immediately available to comment. Petroplus's Coryton refinery in the U.K. east of London closed in June and is being converted into a storage terminal.
Demand for fuels in Italy fell 8.4 percent to 5.48 million metric tons in June from a year earlier, data from the Ministry of Economic Development showed on July 12.
JPMorgan Role
Refiners in the U.S. have made inventory-holding arrangements with lenders in the past two years, reducing their exposure to fluctuating oil prices.
Carlyle Group said it formed a joint venture with Sunoco Inc. to manage the Philadelphia refinery on the U.S. east coast. As part of their new arrangement, JPMorgan Chase & Co. will supply the plant with crude on a "just-in-time basis" and will purchase refined products from the site, according to a statement by Carlyle and Sunoco on July 2.
Alon USA Energy Inc. has supply and offtake agreements with J. Aron & Co., a unit of Goldman Sachs, for its California refineries. Alon will buy crude from, and sell refined products to J. Aron, according to a Feb. 28 statement. A similar pact already exists for Alon's Texas and Louisiana plants.
Statoil ASA supplies PBF Energy Inc.'s New Jersey and Delaware refineries with crude while Morgan Stanley has an offtake agreement for the refined products, Michael Karlovich, a Parsippany, New Jersey-based spokesman for PBF, said on July 26 by phone. The bank supplies oil to the company's Toledo, Ohio, plant while PBF markets the refined products, he said.
The Stanlow accord in the U.K. "can represent an innovation in revenue generation relative to more traditional channels of business and at the same time, closer involvement in physical assets is also a means of getting closer to the actual market," Harry Tchilinguirian, BNP Paribas SA's head of commodity markets strategy, said by phone from London on Aug. 3. "If met with success, then it would not be surprising to see this kind of initiative replicated."
Before it's here, it's on the Bloomberg Terminal.
LEARN MORE