Thai Billionaire's Family Tops Heineken Bid for APB Stake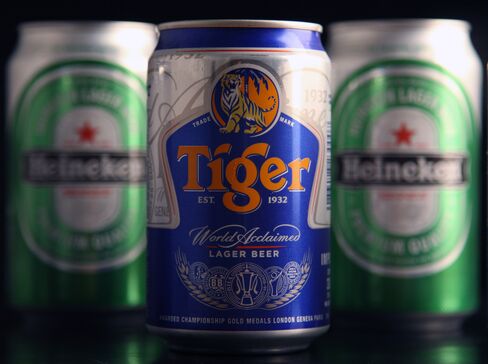 Fraser & Neave Ltd. received an unsolicited bid from a family member of Thai billionaire Charoen Sirivadhanabhakdi for a stake in Asia Pacific Breweries Ltd. at a price that's 10 percent higher than an offer Heineken NV made for all of the Tiger beer maker.
The S$55-a-share bid came from Kindest Place Groups, owned by Charoen's son-in-law Chotiphat Bijananda, for 18.8 million shares, or 7.3 percent, of APB, Singapore-based F&N said in a statement today. F&N's board of directors last week recommended Heineken NV's offer of S$50 a share for its 40 percent stake in APB to shareholders.
"This is all about forcing Heineken to increase its offer," said Jonathan Foster, Singapore-based director of Global Special Situations at Religare. "It's a very aggressive strategy. I can't see how this will go wrong for them. It was quite a clever ploy from the family."
The new bid drove shares of Heineken, which already owns 42 percent of APB, down 2.7 percent to 44.24 euros in Amsterdam. The world's third-largest brewer has sought full control of Singapore-based APB as it attempts to protect its hold over a key emerging-market business and as brewing assets in high-growth economies are in short supply after a decade of consolidation in the industry.
APB Venture
A joint venture between Heineken and Fraser & Neave currently owns about 65 percent of Asia Pacific Breweries, according to data compiled by Bloomberg. Separately, Heineken owns a 9.5 percent stake directly in the brewer, giving it a current holding of about 42 percent in the Tiger beer maker. Fraser and Neave's direct holding in the brewer, outside of the joint venture, is 7.3 percent. Kindest Place said it is offering to buy that direct holding from F&N.
Thai Beverage, controlled by the billionaire, last month bid for a 22 percent stake in F&N. Kindest Place acquired about a 9 percent stake in APB. Vichate Tantiwanich, a senior vice president at Thai Bev, said by phone that he couldn't comment on today's bid by Kindest Place. A Heineken spokesman wasn't immediately available for comment.
Chinatown in Bangkok
Heineken, which accounts for about 8.8 percent of the global beer market, has the smallest emerging-markets presence of the world's big three brewers, according to data compiled by Bloomberg. About 37 percent of operating income came from western Europe last year, the data show.
Besides the Singaporean Tiger brand, APB has rights to brew Bintang beer in Indonesia, Anchor in China, Southeast Asia and Sri Lanka, and Heineken from China to New Zealand.
Charoen was born and raised in Bangkok's Chinatown district after his parents moved from Shantau in China.
He started a trading business that supplied distilleries, and became a distiller after being awarded concessions to produce liquor in Thailand. Charoen bid for the rights to operate distilleries under the Sang Som Group during the liberalization of the nation's liquor industry, and later expanded into beer, alcohol, sugar, and packaging businesses.
Thai Beverage sold shares in Singapore in 2006 after anti-alcohol protesters blocked an offering in its home market. The company offered to buy Serm Suk Pcl, the bottler of PepsiCo Inc. beverages in the Southeast Asian nation, for as much as 15.4 billion baht ($488 million) last September, saying the purchase will allow it to expand its "non-alcoholic product portfolio."
Before it's here, it's on the Bloomberg Terminal.
LEARN MORE