Chesapeake Shares Soar 11% After Record Quarterly Profit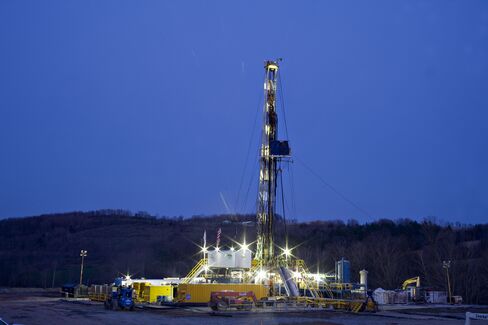 Chesapeake Energy Corp., the second-largest U.S. natural-gas producer, soared after reporting the highest quarterly profit in company history and boosting its asset-sales target to avoid a funding shortfall.
Chesapeake climbed 9.4 percent to $19.37 at the close in New York, the biggest increase since March 2009. Second-quarter net income rose 91 percent to $972 million, or $1.29 a share, from $510 million, or 68 cents, a year earlier, the Oklahoma City-based company said in a statement yesterday.
Chesapeake increased the minimum it plans to raise through asset sales this year to $13 billion from $11.5 billion, and said more than half of that will come by the end of next month when it completes Texas oilfield sales. The company boosted its full-year production estimate owing to discoveries in Texas and Ohio and said the danger of outspending cash flow next year has abated. Oil output from Chesapeake's wells soared 88 percent from a year earlier.
"It was a positive quarter but the bar was set pretty low," Mark Hanson, an equity analyst at Morningstar Investment Services in Chicago, said in a telephone interview. "I'd give it a B-plus. The market's going to give them some credit for this, though they've still got a long way to go."
Excluding gains from the sale of a pipeline and storage subsidiary and other one-time items, Chesapeake earned 6 cents a share, 2 cents less than the average of 31 analysts' estimates compiled by Bloomberg.
Oil Revenue
Sales rose 2.1 percent to $3.39 billion. The proportion of revenue generated by oil and gas liquid byproducts such as ethane more than doubled to 60 percent from a year earlier, even as the company's gas output increased by one-fourth.
Derivative financial instruments linked to oil, gas, interest rates and gas byproducts contributed $490 million in unrealized, non-cash, after-tax gains to second-quarter results, Chesapeake said.
The company said it is negotiating sales agreements on its Permian Basin oilfield assets in Texas and New Mexico, which will be divided into three packages. EnerVest Ltd., based in Houston, has agreed to buy one of the packages, Chesapeake said, without disclosing a price. The Permian transactions and other unspecified deals will be completed by the end of September for total proceeds of $7 billion, the company said.
That would bring total asset sales for the year to $11.7 billion, still short of the company's goal to sell $13 billion to $14 billion in 2012, according to the statement.
Goldman, Jefferies
Some of the Permian fields Chesapeake offered for sale found no takers and will be marketed again once the three pending sales are completed, Chief Executive Officer Aubrey McClendon said during a conference call with analysts today. He didn't say how much acreage was involved.
Cash generated by the asset sales will be used to pay back a $4 billion bridge loan obtained in May from Goldman Sachs Group Inc. and Jefferies Group Inc., and to reduce outstanding debt to $9.5 billion in early January, according to the statement.
Chesapeake lost one-fifth of its market value this year as the impact of tumbling gas prices was compounded by disclosures that McClendon borrowed more than $800 million last year to finance his stakes in thousands of company-owned oil and gas wells.
McClendon was stripped of the chairman's role in June and more than half the board was replaced at the insistence of Chesapeake's largest investors, Southeastern Asset Management Inc. and Carl Icahn.
Founding Partner
The board is conducting an investigation, begun April 26, of McClendon's personal borrowings from some of the company's biggest financiers. Chesapeake hasn't said when the board will finish the internal inquiry. Probes also are under way at the Internal Revenue Service and the U.S. Securities and Exchange Commission.
McClendon, 53, co-founded Chesapeake in 1989 with 10 employees and $50,000 in cash, building the company into the largest U.S. gas producer by embracing intensive drilling techniques overlooked by major international energy explorers. Chesapeake remained the top U.S. gas supplier until June 2010, when Exxon Mobil Corp. acquired XTO Energy.
Gas futures traded in New York plunged 46 percent to $2.354 per million British thermal units, the lowest second-quarter average in 13 years. U.S. gas production rose 4.4 percent in May from a year earlier to the highest since at least 1973, Energy Department figures showed. Gas output has continued to climb as explorers accelerated efforts to harvest byproducts such as ethane, a plastics ingredient that commands higher prices.
Ethane Slump
McClendon's effort to shift Chesapeake's production away from gas and more heavily toward liquid byproducts such as ethane and propane has been undercut by a growing glut of gas liquids from shale formations in Texas and Pennsylvania.
Ethane, a hydrocarbon that is stripped out of the gas stream before the fuel is pumped into pipelines, averaged 40 cents a gallon during the second quarter, 48 percent less than a year earlier. Ethane reached a 3-year high of 95 cents a gallon as recently as October, according to data compiled by Bloomberg.
Chesapeake's second-quarter production climbed 25 percent to the equivalent of 3.81 billion cubic feet of gas a day, according to the statement. McClendon increased production targets for this year and next.
The full-year 2012 target was raised to as much as 1.428 trillion cubic feet of gas equivalent from a July 16 estimate of 1.318 trillion. For next year, the company expects to pump as much as 1.454 trillion cubic feet, up from last month's estimate of 1.364 trillion.
Before it's here, it's on the Bloomberg Terminal.
LEARN MORE