Al-Qaeda Suicide Bombing in Yemen Kills at Least 20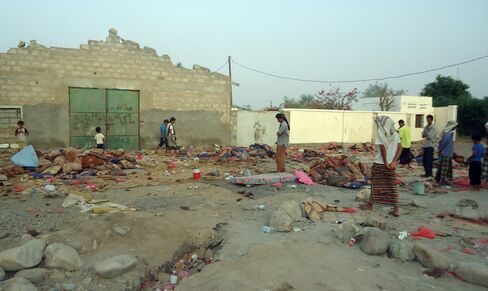 At least 45 people were killed and 40 more were wounded in a suicide bombing carried out yesterday by al-Qaeda in the southern Yemeni province of Abyan, the Yemeni Defense Ministry said on its website, citing unidentified local officials.
A suicide bomber blew himself up at a gathering organized by Abdullatif al-Said, according to the ministry's website, citing Abyan Governor Jamal al-Akil. Al-Said, who said in June he had been an al-Qaeda sympathizer, fought that month with the Yemeni army to drive al-Qaeda militants from cities they had controlled for more than a year.
Two of his brothers were killed in the attack, al-Akil said. Al-Said survived, Saba reported in a text message.
Al-Said had organized the gathering as a memorial after the death of his nephew. The attack came after four al-Qaeda militants were killed earlier in the day during an air strike in the southeastern province of Hadramaut, Saba reported.
The al-Masdar independent website said the militants were killed by a drone while driving in Hadramaut's al-Aatan district.
Before it's here, it's on the Bloomberg Terminal.
LEARN MORE