Union Reaches Deal Covering 45,000 U.S. Airport Screeners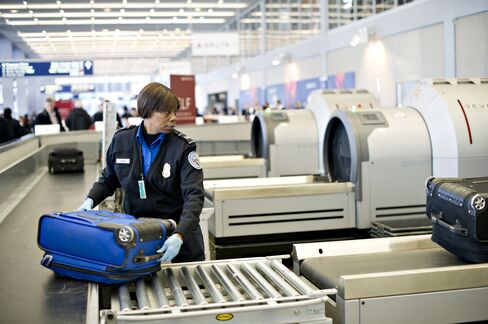 Negotiators for 45,000 airport security screeners reached their first labor agreement with the U.S., completing a decade-long campaign for representation.
The deal between the American Federation of Government Employees and the Transportation Security Administration, which oversees screeners at 450 U.S. airports, was reached early today, the union said. It didn't include wages, a provision banned when collective bargaining was allowed. The workers also are barred from striking, TSA chief John Pistole wrote last year in a memorandum that set guidelines for negotiations.
"It's amazing at this point they have been able to get this agreement," Ellen Dannin, a labor-law professor at Penn State University, said in an interview. "Things are so fraught they want to have some protection and they wanted this settled."
The accord ends a 10-year political fight over representation and gives TSA workers protections President George W. Bush blocked. Successor Barack Obama, a Democrat backed by labor unions in his 2008 campaign, reversed Bush and last year he cleared the way for the screeners to craft a contract, with restrictions on what issues could be bargained.
The union and the TSA didn't release details of the deal. Members must ratify the agreement, according to the statement.
'Significant Milestone'
"This agreement represents a significant milestone in our relationship with our employees," Pistole said in a statement today. "We look forward to a review of the agreement by our covered employees."
In addition to parking and uniforms, the union has been allowed to bargain over attendance, how workers trade shifts and how they win promotion to full-time employment, according to Pistole's February 2011 decision.
The contract won't have provisions for salaries, though will provide security for workers and likely a grievance or arbitration procedure, Dannin said. Workers should have a streamlined process to resolve complaints, she said.
Republicans have pressed to cut the size and mission of the agency, which has been criticized by Congress and watchdog agencies for lax screening of employees, purchases of equipment that didn't work and confrontations with children, senior citizens and elected officials at checkpoints.
Republicans blocked union organizing at the TSA for more than eight years after the unit of the Department of Homeland Security was established in response to the Sept. 11 terrorist attacks. TSA was exempt from regulations that let federal workers vote on joining a union.
'Political Kickback'
The law let the agency administrator decide whether to permit bargaining. When Obama allowed talks to begin, Senator James DeMint, a South Carolina Republican, called it "a political kickback" to unions.
A Republican-led effort to bar agency workers from organizing failed last year in the Democratic-controlled Senate, 51-47.
The agreement is a win for labor groups, which represent a declining percentage of all U.S. workers. Union representation among public-sector workers rose to 37 percent in 2011 from 36 percent a year earlier. Legislation in Wisconsin, Indiana and Ohio, along with the exodus of manufacturing jobs overseas, has reduced union rolls, eroding the political influence of labor leaders.
Before it's here, it's on the Bloomberg Terminal.
LEARN MORE