Soni Wins Women's 200-Meter Breaststroke With World Record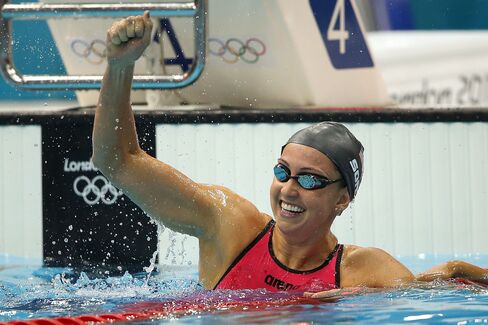 Rebecca Soni of the U.S. won the women's 200-meter breaststroke gold medal at the London Olympics in a world-record time.
Soni finished in 2 minutes, 19:59, ahead of Japan's Satomi Suzuki in second place and Russia's Iuliia Efimova in third.
Tyler Clary overtook U.S. teammate Ryan Lochte to win the 200-meter backstroke and set an Olympic record.
Lochte, a double gold medalist at the London Games, led the race for the first 150 meters before being reeled in by Clary and Japan's Ryosuke Irie. Clary touched in 1:53.41 at the Aquatics Center.
Lochte finished in 1:53.94 seconds behind Irie's 1:53.78 seconds.
Lochte finished first in the 400-meter individual medley and was part of the 800-meter relay team that won gold. He's also taking on Michael Phelps in the 200-meter medley this evening.
Soni, who improved her own world mark of 2:20.0 set yesterday, is the first female Olympic champion from Beijing four years ago to successfully defend her title in London.
Before it's here, it's on the Bloomberg Terminal.
LEARN MORE