Knight Bruised as Analyst Estimates $170 Million Loss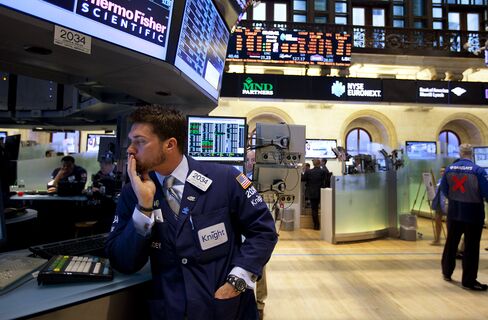 The latest black eye for U.S. equity markets is proving a body blow for Knight Capital Group Inc.
Shares of the Jersey City, New Jersey-based firm plunged 33 percent, the most ever, in record volume yesterday as investors speculated on how much a breakdown that whipsawed owners of 140 stocks will cost the company. Knight said losses from the errors are $440 million, more than some analysts had estimated, and the firm is exploring strategic and financial alternatives, according to a statement today. Its stock plunged a further 58 percent to $2.85 in early trading today.
Knight, led by 57-year-old Chairman and Chief Executive Officer Thomas Joyce, has been at the center of U.S. equities for a decade as one of the biggest market makers, executing almost $20 billion of trades a day in June. Its importance was never so visible as yesterday when its computers helped spur sudden price swings of 10 percent or more in dozens of companies. The issue was related to the installation of trading software and resulted in the company sending "numerous erroneous orders," the Knight said today.
"This isn't good for the market overall and it's not good for Knight," Sang Lee, managing partner at Boston-based research firm Aite Group LLC, said in a phone interview. "They took a beating in their share price. It's not going to devastate the business of Knight since they're a major market maker in equities. But when you're a major player like Knight, mistakes will have a more expanded impact."
Shares Plunge
Knight's stock tumbled $3.39 to $6.94 yesterday, its lowest close since 2003, as a record 64 million shares changed hands. More than $300 million was erased from the company's market value to leave the shares worth $682 million, smaller than Emeryville, California-based educational software-maker LeapFrog Enterprises Inc. and e-commerce company Web.com Group Inc. in Jacksonville, Florida.
The decline was justified, analysts Kenneth B. Worthington and Paul Lanks at JPMorgan Chase & Co. said yesterday. They had predicted Knight's "potential hit to revenue" may total $170 million based their projections on a comparison of where the 140 stocks that were affected traded in the morning with levels after they recovered, according to a note to clients.
"The market is accurately evaluating the situation with the potential downside of losses and hit to Knight's market-making reputation," they wrote. "We don't see the dip as a buying opportunity."
45 Minutes
NYSE Euronext reviewed trading between 9:30 a.m. and 10:15 a.m. New York time in the affected securities listed on the New York Stock Exchange and NYSE MKT, the former American Stock Exchange, including Bank of America Corp. and Caterpillar Inc. In a decision that it said isn't subject to appeal, NYSE canceled trades in six securities where prices swung at least 30 percent in the first 45 minutes, according to a statement on its website.
As stock swings mounted yesterday, Knight told some clients of its market-making business that a "technical issue" was affecting its systems and advised them to route orders elsewhere, according to e-mails from spokeswoman Kara Fitzsimmons yesterday. The issue was confined to that unit and its other operations were unaffected, she said.
One issue Knight may face with regulators is explaining why trading was disrupted for up to 45 minutes and why the problem wasn't caught soon enough to stem the fluctuations, Lee said. Knight shareholders may want to know whether the market maker is still holding the positions it acquired yesterday or unwound the trades and took a loss, he said.
Knee Surgery
Fitzsimmons didn't provide a comment beyond the statement. Joyce, who had knee surgery on July 31 and came to work yesterday, was unavailable, the spokeswoman said. The U.S. Securities and Exchange Commission is monitoring the situation, spokesman Kevin Callahan said in an e-mail. Nasdaq OMX Group Inc. spokesman Robert Madden declined to comment.
The errors were caused by a malfunction in a trading algorithm, according to a person at Knight who asked to remain anonymous because the matter hasn't been publicized. Technicians are reviewing the possibility the error was generated by faulty software, the person said.
Michael T. Dorsey, Knight's general counsel from 1998 until 2002, said firms involved in automated and high-frequency trading including Knight must improve risk controls. He is now an associate director at Oyster Consulting LLC, a Glen Allen, Virginia-based firm that provides regulatory and compliance advisory services to broker-dealers and other financial firms.
'Tighten Up'
"The oversight of the use of algorithms isn't tight enough in the industry," Dorsey said in a phone interview. "The people who run these algorithms and trading models will have to do something from a supervisory and risk management standpoint to tighten up on the testing and pre-trade risk controls to raise the comfort level that they actually perform as they're intended to perform."
Goodyear Tire & Rubber Co. rose more than 10 percent before fluctuations in the stock narrowed and it finished up 6 cents at $11.51. In intraday trading, Manitowoc Co. gained as much as 14 percent, Pandora Media Inc. climbed 11 percent and Level 3 Communications Inc. plunged 15 percent, according to data compiled by Bloomberg. None ended more than 4 percent away from the previous close.
Knight's market-making business traded a daily average of $19.5 billion worth of equities in June with volume of 3.1 billion shares, according to its website.
Technology Trader
The firm was founded in 1995 and grew during the bull market of the late 1990s into one of the biggest traders of the technology stocks that led the market's surge and subsequent plunge. It had 1,423 employees at the end of 2011, according to a regulatory filing.
Knight has also grown through more than 15 mergers and acquisitions since 2000, according to data compiled by Bloomberg. The company bought the Attain ECN, an electronic market, in 2005 from Domestic Securities Inc. Knight later sold stakes in the electronic venue that it renamed Direct Edge Holdings LLC and spun out as a separate company. Direct Edge, based in Jersey City, New Jersey, is now the fourth-largest American equity exchange operator.
The broker-dealer purchased a foreign exchange business and a trading unit on the floor of the New York Stock Exchange. The company makes markets in U.S. equities and options and has an institutional sales and trading business in stocks and fixed-income. It also has an electronic stock execution business and provides algorithms to asset managers and other firms.
TJ's CV
Joyce, known in the industry as TJ, became CEO and president of Knight in 2002 after serving for five months as head of global trading for the institutional brokerage business at Sanford C. Bernstein & Co. He spent 14 years at Merrill Lynch & Co. overseeing electronic trading and worked on the acquisition of Knight rival market-maker Herzog, Heine & Geduld Inc. in 2000. Joyce graduated with a degree in economics from Harvard College in 1977.
Knight, at the time called Knight Trading Group Inc., experienced a software failure on June 3, 2002, days after Joyce joined the firm, that caused its computer systems to send orders to sell almost 1 million of its own shares, pushing the stock down more than 50 percent.
Canceled Trades
All the trades by Knight, then the largest market maker in Nasdaq stocks, were canceled, according to Nasdaq and the Cincinnati Stock Exchange. More than 4 million shares of Knight changed hands that day, triple the daily average that year.
"As a leader, TJ is able to show resolve under difficult situations and I wouldn't expect anything different in this instance," Christopher Nagy, president of KOR Trading LLC in Omaha, Nebraska, which consults for brokers and exchanges, said in a phone interview. Even so, the issue "could affect Knight's ability to commit capital and make markets for retail brokers," he said.
"The systemic risk is that today we've got a handful of firms that control a significant amount of volume in the U.S.," Nagy said. "We all talk about fragmentation in the marketplace with lots of venue choice, but the reality is the order flow is aggregated with just a handful of vendors. How does this affect Knight? What hit does this have on earnings?"