India Blackout Underscores Grid Vulnerabilities, Regulators Say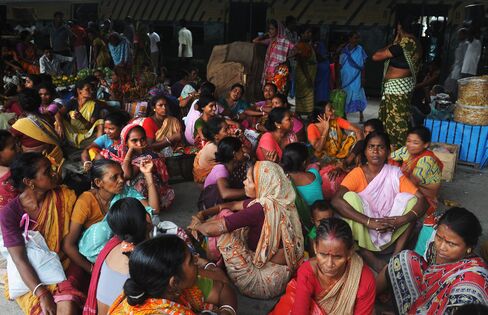 Blackouts that left half of India's population without electricity show power networks are vulnerable, New Zealand and U.S. regulators said.
A series of failures and excessive demand on the national grid knocked out power for 640 million people in northern and central India on July 31, a day after a separate blackout left 360 million in seven states without lights. A three-member committee appointed by India's government is investigating.
"Blackouts like that and cascading failures can occur and we have seen them occur in other countries," Carl Hansen, chief executive of New Zealand's Electricity Authority, said in an interview. "It is something that is constantly on the mind of grid planners."
The two-day crisis was easing as the Asia Pacific Energy Regulatory Forum in Washington began a meeting of regulators from eight nations to discuss issues such as reliability and adding wind and solar power onto established grids.
India has "a fairly robust transmission network" and the nation has been successful "in adding power capacity," Pramod Deo, chairman of India's Central Electricity Regulatory Commission, said yesterday in a presentation that didn't provide details on the loss of power to 9 percent of the Earth's population.
The crisis was triggered when India's cash-starved electric utilities drew more than their allotted power from the nation's grid instead of buying on the market, Deo said in an interview before his talk. He also blamed a power-line failure and humid weather.
'Good Shape'
India's electricity crisis got the attention of the U.S. Federal Energy Regulatory Commission, which manages the American power market.
"We're looking at it in depth, we are very concerned about it, we want to see, if we can, what has been the reason for those events occurring, whether there's any issues that we may learn from them, that relate to our grid," FERC Chairman Jon Wellinghoff told reporters on July 31. "We believe that our grid is generally in good shape."
India's failure was related partly to the combination of four regional grids into a single network, Mark Lively, a utility economic engineer in Gaithersburg, Maryland, said in an interview during the conference.
"They're loosely combined, in that there are two or three lines between these major grids," Lively said. Based on information he had, some were off-line for repairs, causing the remaining links to overload. Lively said other nations are considering joining grids, exposing themselves to similar risks.
A blackout that swept parts of North America in August 2003, leaving 50 million people in the dark, was similar to the Indian disaster in that it was related to owners of power lines failing to monitor connections, so that they were not aware of all the outages. The U.S. monitoring of the grid has improved since 2003, according to Lively.
The 2003 event, triggered when a power line touched tree branches in Ohio, caused losses of as much as $10 billion, according to a study by the U.S. and Canadian governments.
Before it's here, it's on the Bloomberg Terminal.
LEARN MORE