Box Takes Another $125 Million—and Why Not?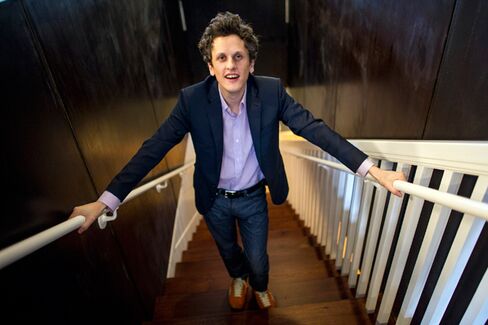 "What's up?" asks Aaron Levie, co-founder and chief executive officer of Box, as he hops onto a conference call.
Levie likes to give off a happy-go-lucky air. He's the wild-haired, 27-year-old guy who has turned into the ultimate Silicon Valley socialite, showing up at just about every party, special dinner, and industry conference. Levie always has a joke or 12 to crack at these gigs. Similarly, his tweets are a must follow for his often acerbic assessment of the goings-on in the technology industry.
Things, however, have gotten awfully serious at Box. On Tuesday, the company announced that it has raised a further $125 million—$100 million of which will come from investment firm General Atlantic. How much has Box raised to date? "This brings us to $280 million or so," Levie says.
Box plays in the crowded field of online storage and file-sharing companies. Ventures such as Dropbox mostly help people sync their files across a bunch of computers and devices, and others like YouSendIt help people transmit really large files across the transom. About 50 other companies perform these tasks and more in various combinations.
The quest Levie has assigned to Box is to be a true platform, rather than a niche service. This basically means that Levie would like people to show up at the office and use Box as their main tool for handling projects, communicating with coworkers, and doing business with partners and customers. This grand vision has Box usurping e-mail and providing workers with an information-and-communication hub. If you've used Box, you know the company is well on its way to building a service capable of meeting these lofty aspirations.
The funding Box now has gives it a major leg up over the mass of rivals. Only a couple of other companies can afford to push their services hard overseas and to set up customer support able to satisfy really large clients.
It's those large customers that Box wants to court now, as it tries to grow up from a tool adopted by teams to a tool adopted wholesale by companies. To that end, it has brought General Atlantic operating partner Gary Reiner onto its board. Reiner used to serve as chief information officer at General Electric. "Box fills a gap that has been there forever," says Reiner. "At GE, we had to build our own service and believe me, we hated building it."
For General Atlantic, there seems to be limited risk in the $100 million it just threw at Box. Last month, Microsoft bought Yammer for $1.2 billion. That showed Microsoft was willing to pay a lot for a company that served a narrow function—enterprise-grade social networking—in a bid to modernize its business-software lines. "We noticed that," Reiner says. The latest funding round values Box at around $1.2 billion.
Box has just moved into a fancy new headquarters in Los Altos, Calif., with a curvy slide that leads down to the front door. The company appears determined to try for an initial public offering in 2013 instead of selling out, and the funding would seem sufficient to get it there.
Before it's here, it's on the Bloomberg Terminal.
LEARN MORE