'It's Like Before Hitler'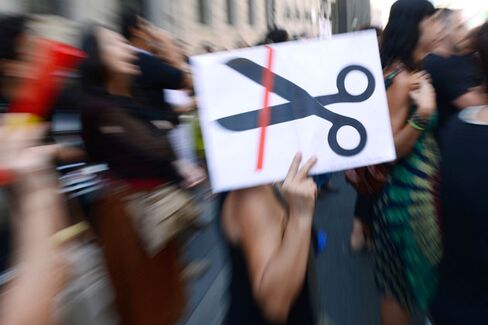 "Proponents of solidarity are stunned that their Eurozone peers let them stand in the rain, even at the risk of their own peril, while proponents of accountability maintain that they have been disappointed by empty promises once too often. In order to de-escalate the situation a mechanism is needed that allows for combining these two principles." —The Wise Men
Correct. Now it's just a matter of getting the solidarity/accountability ratio right.
—Peter Coy quoting the "Wise Men" of the German Council of Economic Experts, "Germany Seeks Financial 'Redemption' for Europe," Bloomberg Businessweek, 28 May 2012
The ECB is the only institution that can prevent panic in the sovereign bond markets from pushing countries into a bad equilibrium, because as a money-creating institution it has an infinite capacity to buy government bonds. The fact that resources are infinite is key to be able to stabilise bond rates. It is the only way to gain credibility in the market.
—Paul De Grauwe, "Why the EU Summit Decisions May Destabilise Government Bond Markets," VOX, 2 July 2012
Nomura says the combined needs of Spain and Italy amount to €1.1 trillion over three years. The money does not exist. Any attempt to raise such sums on the open market would expose the bluff behind the bail-out machinery.
—Andrew Evans-Pritchard, "Only Mario Draghi's ECB Can Avert Global Calamity before the Year Is Out," Telegraph, 29 July 2012
These three essays span late spring to the edge of August. Coy, De Grauwe and Evans-Pritchard have been collectively and differently dead-on on the urgency required of dithering Europe.
Read their work. Again, get up to speed, read their work and Charles Wyplosz as well. If it is too heavy lifting, consider this chance meeting as a motivator.
He, and I mean He, has experience. (There are no "people familiar …" in this story because he is too familiar and the conversation was off the record. How off? Way off.)
Anyway, we bumped into each other and made light conversation on things Europe. Gloom pervaded. I suggested a set of readings, including the above.
We said our goodbyes, and turning away he said in passing, "It's like before Hitler." Discuss.
Before it's here, it's on the Bloomberg Terminal.
LEARN MORE