Forget Polar Bears, Worry About Keeping the Lights On: Books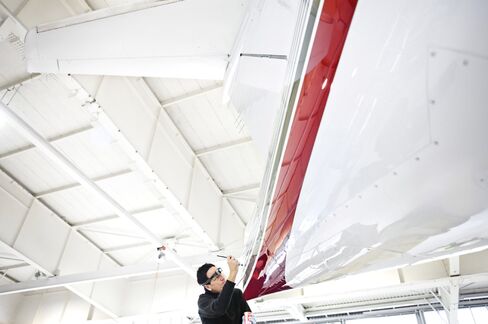 By Kim Chipman
Maggie Koerth-Baker, science editor at BoingBoing.net, says she was motivated to write her latest book, ``Before the Lights Go Out,'' after listening to her husband, an energy efficiency analyst, come home and talk shop.
He would describe all the things that experts understand but that people actually making decisions about energy -- the building owners, politicians, consumers -- "don't really get,'' Koerth-Baker said in an interview.
In "Before the Lights Go Out," Koerth-Baker seeks to demystify the origins of the U.S. power grid and grapples with the current energy dilemma. I spoke to her about her vision of a future that includes both new technologies and fossil fuels.
Q: Does energy efficiency suffer from an image problem?
A: A lot of people say energy efficiency isn't terribly sexy because it's a lot of stuff that's harder to show off than, say, solar panels. An example of something simple yet enormously effective is at the Naval Air Station in Jacksonville, Florida, where there's an energy efficient aircraft hangar painted white inside so light can reflect off the floor and walls, reducing the need to turn the lights on while working. It's not as exciting as some other things because it doesn't seem like brand new technology.
Q: Your book talks about clean coal. What are the prospects for low-emitting coal?
A: It's certainly possible, but it's going to be really expensive. Clean coal is more of a stop gap. We are going to have to use coal for a really long time. We aren't going to get all the way off fossil fuels anytime soon, so I think that there is potentially a value in having some kind of system set up like cleaner coal where we can use this fuel in a less damaging way.
Q: What are the hurdles?
A: The problem is that people tend to talk about cleaner coal as if it's a solution in and of itself. It's really expensive and also it's something that makes these power plants run less efficiently. You have to burn more fuel to get the same amount of electricity. It's not an ideal solution.
Also, if you pick the right spot, carbon sequestered over 500 yrs or so will calcify and turn into rock, but you have to maintain facilities and injection sites for a really, really long time. I don't know if that's something we want to wed ourselves to as a solution.
Q: What about the time horizon for fossil fuels in general?
A: The problem is that time scales aren't what we tend to think they are. When you talk about infrastructure, short-term is 40 years, not five; long term is 100 years or more. It's hard to think short term when I'm thinking a decade and those trying to build are thinking most of my lifetime. It's hard to put time scales into something that makes sense.
Q: What about natural gas specifically and how fracking changes the view of how long it may be a ``bridge'' fuel?
A: A lot of times when people talk about natural gas as a great bridge fuel they mean we should just rely on natural gas and ignore everything else. A mind blowing moment for me was at the American Association for the Advancement of Science in 2010. A guy from the natural gas industry talked about how we had plenty of natural gas, enough for 200 years. Well, my definition of `enough' isn't 200 years. That's just not enough as far as I'm concerned.
We have the technology now to absolutely -- without anything fancy -- make a huge difference in the way we use energy in the U.S. But to actually get nothing but renewable we have to develop new technology.
Q: What about climate change?
A: There's a big disconnect between what people actually see happening and what they are willing to accept politically. There's such a huge identity value wound up in this: You know who you believe you are and what you want to be part of and therefore are against this idea that climate change is real, even if at the same time you see climate change is happening and acknowledge maybe that's not such a good thing.
Q: How do you address this?
A: The real challenge right now is disconnecting the science from identity and the identity politics and trying to actually go out and talk about stuff in a way that is related to what people are actually seeing rather than telling them you have to believe this idea "because I say so."
Something that's changed over the last 10 or 15 years is that we now have really good data on how much has changed already, like the bigger, more frequent storms in the U.S. That's something likely to hit people a little harder emotionally than talking about polar bears or flooding in pacific islands.
Q: What do you see as the biggest energy challenge we face now?
It's going even beyond the political will issue. It's how to think about planning infrastructure. Our current electrical grid wasn't designed or planned, it evolved. When looking at the kind of problems we are facing right now with climate change and fossil fuel supplies and energy security we don't necessary have time to sit back and let the situation naturally evolve over a hundred years. That's a big change in how we develop infrastructure that we haven't really done before.
Q: What do you see as most hopeful?
It's really encouraging how interested people are in energy, even under all the frustration and combativeness there is an optimism around what Americans can do about energy.
Visit www.bloomberg.com/sustainability for the latest from Bloomberg News about energy, natural resources and global business.
-0- Jul/31/2012 01:04 GMT