Chrysler Reports $436 Million Second-Quarter Profit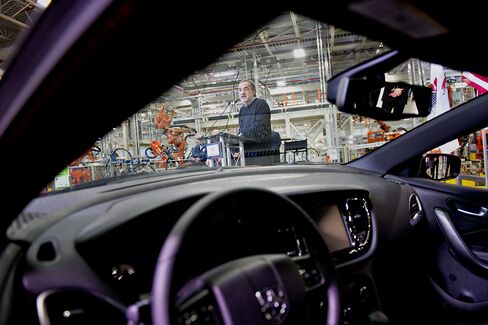 Chrysler Group LLC, the automaker controlled by Fiat SpA, said it plans to raise its full-year profit outlook after the third quarter as the carmaker sees the U.S. market maintaining a rebound to its best year since 2007.
"We will upgrade guidance when we've got the Q3 numbers under our belt," Richard Palmer, chief financial officer of Chrysler and Fiat, said today on a conference call. "We don't see a slowdown in the second half of the year in terms of the market, and as such we're forecasting the market to be over 14 million for the full year in the U.S."
As recently as yesterday, when Chrysler reported $909 million net income in 2012's first half, the Auburn Hills, Michigan-based company affirmed its forecast that profit will rise to about $1.5 billion this year. That compares with a $254 million loss in the first half of 2011, which included a one-time $551 million cost for repaying government loans.
The No. 3 U.S. automaker has increased sales in its home market for 27 consecutive months, a sharp turnaround after its rescue by the U.S. and Canadian governments and departure from bankruptcy protection in June 2009. Chrysler's forecast for U.S. industry sales of more than 14 million vehicles would be the best total since 2007.
"The North American car industry is coming back with a roar," Sergio Marchionne, chief executive officer of Chrysler and Turin, Italy-based Fiat, said yesterday in an e-mail to employees.
Buoying Fiat
Chrysler is buoying results for majority-owner Fiat as Europe's debt crisis sends sales in the region to a fifth-consecutive drop. The Italian carmaker's loss in the region before interest, taxes and one-time items including investments widened to 184 million euros ($226 million) from 170 million euros in the first quarter, according to a statement today.
Chrysler's U.S. sales of passenger cars surged 42 percent during the second quarter from a year earlier, driven by demand for 200 and 300 sedans, according to researcher Autodata Corp.
Fiat fell 19 cents, or 4.4 percent, to 4 euros in Milan trading today. The stock has climbed 13 percent this year, valuing the carmaker at 5 billion euros.
Chrysler reported it had $12.1 billion in cash at the end of the quarter, up from $11.3 billion as of March 31. Net industrial debt dropped to $432 million from $1.3 billion at the end of the first quarter.
The automaker's car-sales gains probably will continue in the second half because of the new Dodge Dart compact sedan, which will reach full inventory at dealers by September, said Richard Hilgert, an analyst for Morningstar Equity Research.
Merger Plans
Marchionne plans to merge Chrysler and Fiat and increase sales to more than 100 billion euros by 2014. Fiat will boost its ownership stake of Chrysler to 61.8 percent by exercising an option to buy an additional 3.3 percent from the United Auto Workers' retiree health-care trust, or VEBA, the company said in a July 3 statement.
An initial public offering for Chrysler isn't going to happen this year, Marchionne reiterated today on the company's conference call. The slump in financial markets and valuations of competing automakers make it unlikely that Fiat and the VEBA, which owns the remainder of Chrysler, will reach an agreement clearing the way for a full merger of the automakers in the near term, Morningstar's Hilgert said.
Chrysler Group's total U.S. sales rose 30 percent from a year earlier to 834,068 cars and light trucks during the first half, according to Woodcliff Lake, New Jersey-based Autodata. Sales of the Chrysler brand's 200 more than doubled and 300 sedans almost tripled in the first half from a year earlier.
Outpacing Market
The company topped the industry's 15 percent increase, boosted by demand for redesigned or refreshed models such as the Jeep Grand Cherokee sport-utility vehicle. Chrysler's U.S. market share rose 1.4 percentage points from a year earlier to 11.5 percent, Autodata said.
Marchionne is planning a product offensive for Chrysler as Fiat delays the introduction of new models in Europe and cuts investment in the region by 500 million euros.
New offerings next year include updates to the Grand Cherokee SUV in the first quarter, followed by a replacement to the Jeep Liberty SUV and a refreshed Ram heavy-duty pickup in mid-2013, Palmer said today on the conference call.
Those new models follow the introduction of the Dart this year and a revamped light-duty Ram truck in the fourth quarter.
The new products may allow Chrysler to reduce U.S. incentive spending that led major automakers during the first six months, according to Autodata. The company increased promotions by 7.4 percent to $3,258 per vehicle.
"2013 is a relatively large year in terms of product launches and '14 is equally important, because that's when we'll be launching the replacement of the current Chrysler 200," Marchionne said on the call. "You will see an improvement in incentive levels and pricing as we go forward."
Before it's here, it's on the Bloomberg Terminal.
LEARN MORE