Renault Profit Beats Estimates on Latin America, Russia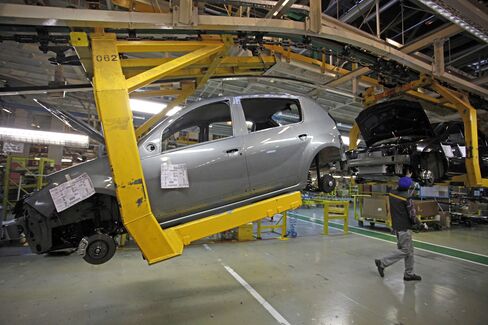 Renault SA, France's second-biggest carmaker, reported first-half operating profit that beat analysts' estimates as Latin American and Russian gains helped offset plummeting demand in western Europe.
Earnings before interest, taxes and one-time items dropped 23 percent to 482 million euros ($592 million) from 630 million euros a year, the Boulogne-Billancourt, France-based company said in a statement. The figure beat the 363 million-euro average estimate of seven analysts surveyed by Bloomberg. Sales fell 0.8 percent to 20.9 billion euros.
Renault, which earns most of its money selling low-cost and mid-market vehicles, posted first-half delivery increases of 20 percent or more in Latin America and Russia. The French automaker's operational free cash flow was a negative 200 million euros in the period.
"Management has a very good focus on all the important issues," said Kristina Church, a Barclays analyst in London with an overweight rating on the shares. "They've managed to keep cash burn to a minimum and they're not trying to push volumes too much through discounts"
Renault gained as much as 1.70 euros, or 5 percent, to 35.49 euros and was up 4.8 percent as of 10:11 a.m. in Paris trading today. The stock has climbed 32 percent this year, valuing the carmaker at 10.5 billion euros.
Target Scrapped
Renault said today that it aims in 2012 to surpass last year's deliveries, scrapping an earlier target for growth of 3 percent to 4 percent. First-half sales fell 3.3 percent. Renault now expects the European market to contract 6 percent to 7 percent this year, and the French market to decline 10 percent to 11 percent, lowering earlier forecasts.
PSA Peugeot Citroen, Europe's second-biggest carmaker, this week reported a first-half loss of 662 million euros at its automaking division. The carmaker has burned through 200 million euros in cash monthly for the last year. Peugeot plans to cut 8,000 jobs and close a factory on the outskirts of Paris to reduce costs.
Renault posted the biggest first-half sales decline in Europe, with deliveries tumbling 17 percent to 583,145 vehicles, according to the Brussels-based European Automobile Manufacturers' Association, or ACEA. Industrywide sales in the region declined 6.3 percent, according to ACEA.
Renault sales in Latin America rose 20 percent to 215,149 vehicles, while deliveries in Russia and other former Soviet states jumped 29 percent to 103,926, the carmaker said July 11.
The automaker's profitability in Latin America and Brazil in the first half was above the group average, Chief Financial Officer Dominique Thormann said today.
Net Debt
Renault's automotive unit posted first-half profit of 87 million euros. Net debt at the automotive unit rose to 818 million at the end of June from 299 million euros at the end of 2011, Renault said today.
"In a difficult and uncertain environment, Renault remains on track to meet its 2012 objective of positive automotive operational free cash flow," Chief Executive Officer Carlos Ghosn said in the statement.
Volkswagen AG, Europe's largest carmaker, yesterday reported slower profit growth on weaker demand in the region. VW's second-quarter operating profit rose 3.4 percent to 3.28 billion euros. That compared with a first-quarter increase of 10 percent. VW's second-quarter revenue gained 19 percent to 48.1 billion euros.
Renault and Peugeot could benefit from French government plans to aid automakers as the region's sales shrink for a fifth consecutive year. France will spend about 665 million euros to bolster's the auto sector, protect jobs and build "vehicles for tomorrow," Industry Minister Arnaud Montebourg said in Paris July 25, adding that the government is making 450 million euros in financing available to auto-parts suppliers.
Before it's here, it's on the Bloomberg Terminal.
LEARN MORE