Starbucks Falls After Cutting Forecast Below Estimate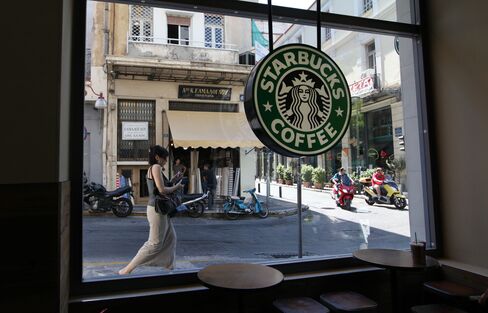 Starbucks Corp., the world's largest coffee-shop chain, fell the most in 11 months after forecasting fourth-quarter profit that trailed estimates as consumers pull back around the globe.
Starbucks dropped 9.4 percent to $47.47 at the close in New York for the biggest decline since Aug. 18. The shares have gained 3.2 percent this year.
Chief Executive Officer Howard Schultz is trying to attract customers fretting about the global economy by selling juice, energy drinks and better food alongside its traditional coffee. The company lowered its forecast for fourth-quarter profit to as much as 45 cents a share from a previous projection for as much as 47 cents. Analysts estimated 48 cents, on average.
"People are disappointed in the fourth-quarter guidance going down," Sara Senatore, a New York-based analyst at Sanford C. Bernstein & Co., said in an interview. "It's a confidence issue" in the U.S., she said.
Net income advanced 19 percent to $333.1 million, or 43 cents a share, from $279.1 million, or 36 cents, a year earlier, the Seattle-based company said yesterday in a statement. Analysts projected 45 cents, the average of 27 estimates compiled by Bloomberg.
U.S. consumer sentiment unexpectedly declined in July to the lowest level this year as Americans grew more concerned about their finances. The Thomson Reuters/University of Michigan index of consumer sentiment dropped to 72 this month from June's 73.2 reading.
U.S. Growth
At U.S. cafes, sales growth began to slow in June from earlier this year, Chief Financial Officer Troy Alstead said yesterday in an interview.
"The overhang of challenged consumer sentiment and housing and unemployment, I think the consumer is feeling it," he said.
In June, Starbucks bought San Francisco-based Bay Bread LLC, giving it access to higher-quality food and a chain of bakeries, to help it compete with restaurants such as Panera Bread Co. The coffee brewer gets about 75 percent of its revenue from the Americas, which includes the U.S., Canada and Latin America.
Global same-store sales rose 6 percent, less than the 6.1 percent average estimate of analysts surveyed by Consensus Metrix, a researcher owned by Wayne, New Jersey-based Kaul Advisory Group.
Same-Store Sales
Same-store sales increased 7 percent in the Americas and rose 12 percent in China and Asia Pacific. Analysts estimated growth of 6.4 percent and 13 percent, respectively. Sales at stores open at least 13 months in Europe, the Middle East and Africa were unchanged in the quarter, Starbucks said yesterday in a statement.
Comparable-store sales are considered an indicator of a retailer's growth because they include only older locations.
"Europe continues to be our most challenged part of the world by far," CFO Alstead said. The European economy is "extremely challenging and perhaps worsened during the quarter," he said.
Starbucks may begin closing some unprofitable stores in Europe in the current quarter, Alstead said yesterday on a conference call. Closure costs may be as high as $20 million in the fourth quarter, he said.
Starbucks forecast fiscal 2013 profit of as much as $2.14 a share. Analysts estimate $2.28, on average.
Revenue advanced 13 percent to $3.3 billion during the quarter, compared with analysts' average estimate of $3.32 billion.
Starbucks has more than 17,400 locations worldwide including about 10,800 in the U.S. and 740 in the U.K., its largest market in Europe.
Before it's here, it's on the Bloomberg Terminal.
LEARN MORE