Jobless Claims in U.S. Decrease, Extending July Volatility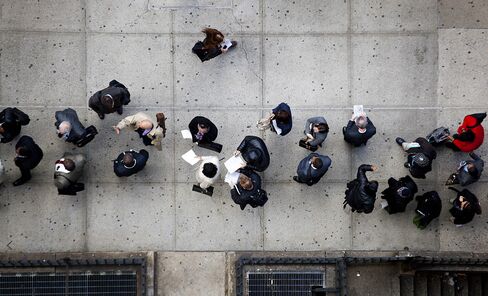 Fewer Americans than forecast filed first-time claims for unemployment insurance payments last week, extending the period of volatility typically seen in July.
Applications for jobless benefits decreased by 35,000 in the week ended July 21 to 353,000, Labor Department figures showed today. Economists forecast 380,000 claims, according to the median estimate in a Bloomberg News survey. Changes in the annual auto plant shutdowns that occur this time of year have made it difficult to adjust the data for seasonal variations, the Labor Department has said.
Statistical noise aside, slowing economies in Europe and China, which have reduced global demand for goods, may continue to curb employment. The U.S. presidential election and a looming battle over tax cuts and government spending may also be making businesses reluctant to hire.
"All in all, the labor market is gradually healing," said Ryan Sweet, a senior economist at Moody's Analytics Inc. in West Chester, Pennsylvania. "We've got to take this report with a grain of salt. The jobs market is still tough and we're setting ourselves up for a soft second half of the year."
Orders for durable goods climbed more than projected in June as a surge in demand for aircraft and military hardware overshadowed a slump in business equipment spending, data from the Commerce Department also showed today. Bookings for goods meant to last at least three years rose 1.6 percent for a second month. The median forecast of economists surveyed by Bloomberg called for a 0.3 percent gain.
Shares Climb
Stock-index futures held earlier gains after the reports as European Central Bank President Mario Draghi said policy makers will do everything in their power to ensure a survival of the euro. The contract on the Standard & Poor's 500 Index maturing in September rose 1.3 percent to 1,352.5 at 8:45 a.m. in New York.
Estimates for first-time claims ranged from 365,000 to 400,000 in the Bloomberg News survey of 51 economists. The Labor Department revised the prior week's figure to 388,000 from an initially reported 386,000.
The weekly measure of the labor market has been distorted this month by automotive plants. Demand for new cars has led automakers like Chrysler Group LLC and Nissan Motor Co. to skip, delay or shorten their typical mid-year factory shutdowns to retool for the new model year. The result has been large, unexpected swings in unemployment claims.
Volatility Continues
The volatility may last one more week, a Labor Department spokesman said as the figures were released to the press. The four-week moving average, a less-volatile measure of jobless claims, fell to 367,250, the lowest since March, from 376,000.
The number of people continuing to collect jobless benefits shrank by 30,000 in the week ended July 14 to 3.29 million.
The continuing claims figure does not include workers receiving extended benefits under federal programs. Those who have used up their traditional benefits and are collecting emergency and extended payments increased by about 27,000 to 2.59 million in the week ended July 7.
Initial jobless claims reflect weekly firings and tend to fall as job growth -- measured by the monthly non-farm payrolls report -- accelerates.
Labor Department figures earlier this month showed that the job market is making little progress, with payrolls expanding by a less-than-forecast 80,000 workers in June. Excluding government agencies, private hiring increased 84,000, the weakest in 10 months.
Unemployment Rate
The unemployment rate held at 8.2 percent to mark the 41st consecutive month that joblessness has remained above 8 percent -- the longest stretch of such elevated levels in the post-World War II era.
Ford Motor Co., which said it would idle 13 U.S. plants for one week instead of two for its annual summer shutdown, lowered its outlook for the year as ballooning losses in Europe overshadowed earnings in North America.
Europe's economy, which accounts for a quarter of Ford's revenue, is worse than the company anticipated at the start of the year and will stay challenging for at least five more years, Chief Financial Officer Bob Shanks said.
"We think this is a situation we'll have to deal with for the foreseeable future," Shanks told reporters at Ford's Dearborn, Michigan, headquarters. "We're not counting on a strong recovery of the business as one of the things that will save us."