Bloomberg View: A Mom-to-Be in the Corner Office
The message of Marissa Mayer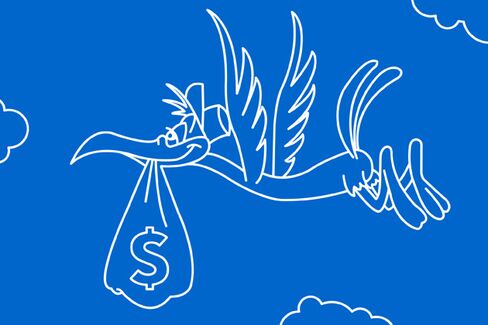 In announcing that she would soon be a new mother, Marissa Mayer, the new chief executive officer of Yahoo!, made one thing perfectly clear: She wouldn't be taking maternity leave. Many moms scoffed. Just wait until she experiences the labor, the every-two-hours feedings and the moments of intense joy in between. She'll change her mind.
This wouldn't be a bad thing, if only to demonstrate to the rest of the U.S. the privilege that Mayer, as a Californian, enjoys. Her state is one of the few to guarantee paid maternity leave. Its program is a successful model for other states, just as Mayer will be an example for women in her company and industry.
The U.S. is the only major industrialized country not to guarantee paid parental leave nationwide. The federal Family and Medical Leave Act passed in 1993 allows workers as much as 12 weeks of leave without losing their jobs or benefits, but it doesn't protect wages.
California was the first state to fill the gap. The state has long allowed women to receive temporary disability insurance payments in the four weeks leading up to their due dates and in the six weeks or more after giving birth. Since 2004, the state's Paid Family Leave program has enabled both parents to take off an additional six weeks and be paid 55 percent of their usual wages, up to a cap of $1,011 a week in 2012.
The program is financed through a 1 percent state payroll tax. Almost all workers in the private sector are eligible for the leave—and it's been good for employers, too. Despite initial fears about the price, 87 percent of companies reported that they incurred no additional costs. Almost 9 percent reported saving money because turnover costs dropped.
The only problem—and here's where a high-profile figure like Mayer could be particularly helpful—is that too few prospective parents in California know about their paid-leave privileges. More than half of the eligible workers interviewed for a 2010 survey were unaware of the program.
President Barack Obama has sought a grant program to help states experiment with paid leave, but Congress didn't approve his requests for $50 million in 2011 and $23 million in 2012. His 2013 budget seeks just $5 million.
That's a worthy investment to make in the millions of parents who, though they lack the resources of someone as successful as Mayer, would still like to combine parenthood with a fruitful career.
Before it's here, it's on the Bloomberg Terminal.
LEARN MORE