Treasuries Drop on Bailout Speculation Before Note Sale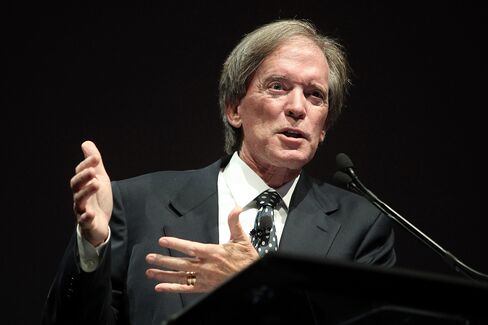 Treasuries fell, snapping a three-day advance, as speculation that European policy makers will boost the firepower of their bailout fund damped demand before the U.S. sells $35 billion in five-year notes.
Treasuries pared losses after a report indicating sales of new U.S. homes unexpectedly dropped in June from a two-year high. Ten-year yields earlier climbed from a record low after European Central Bank council member Ewald Nowotny said there are arguments in favor of granting the European Stability Mechanism a banking license, giving it access to ECB lending. Yields on five-, seven-, and 30-year Treasuries also dropped to all-time lows for a third straight day in earlier trading.
"We'll be talking about Europe for years," said Ray Remy, head of fixed-income in New York at Daiwa Capital Markets America Inc., one of 21 primary dealers that trade directly with the Federal Reserve. "You have an auction in five-year notes today and seven-year notes tomorrow -- sometimes the market has to get cheaper to get through the supply."
The benchmark 10-year yield rose two basis points, or 0.02 percentage point, to 1.41 percent at 12:21 p.m. in New York, according to Bloomberg Bond Trader prices. The 1.75 percent note due in May 2022 fell 6/32, or $1.88 per $1,000 face amount, to 103 3/32. The yield earlier dropped to 1.3790 percent.
Treasuries have returned 3.2 percent this year, boosted by a 1.5 percent gain this month as of yesterday, according to Bank of America Merrill Lynch indexes. The securities trail a 4.2 percent gain this year and a 2.1 percent gain this month from German bonds, according to the indexes.
Notes Auction
The five-year notes being sold today yielded 0.58 percent in pre-auction trading, compared with 0.752 percent at the previous sale on June 27. The record auction low was 0.748 percent in May. Investors bid for 2.61 times the amount offered last month, the least in a year.
"We don't see much of a problem with 5s, though surely would like to buy them a little cheaper," David Ader, head of U.S. government-bond strategy at CRT in Stamford, Connecticut, wrote today in a note to clients. "The charts are generally supportive having broken out over the last few days, the data is supportive."
The securities may also benefit from speculation of more stimulus measures from the Federal Reserve, Ader wrote, such as asset purchases, extended language for the target rate and interest on excess reserves.
Primary dealers, which underwrite the U.S. debt, at the last auction bought 54.1 percent of the securities last month, the most since February 2011. Indirect bidders, the category of investors that includes foreign central banks, purchased 35.1 percent, the least since the same month.
Record Yield
The U.S. sold $35 billion of two-year notes yesterday at an all-time low yield of 0.220 percent, drawing almost record demand. The bid-to-cover ratio, which gauges demand by comparing total bids with the amount of securities offered, was the second-highest ever at 4.0, compared with an average of 3.72 for the past 10 sales. The record was 4.07 percent in November 2011.
The Treasury concludes this week's auctions with a $29 billion sale of seven-year debt tomorrow.
The Fed purchased $4.999 billion of Treasuries due from August 2020 to May 2022 today as part of the central bank's plan to put downward pressure on borrowing costs by swapping short-term Treasuries in its holdings for longer maturities.
Demand for new U.S. homes unexpectedly dropped in June to a 350,000 annual rate, down 8.4 percent from the prior month and the weakest since January, the Commerce Department reported today in Washington. The median estimate in a Bloomberg News survey of 74 economists was 372,000. The decline was led by a record 60 percent plunge in the Northeast.
'Economic Slowdown'
"New home sales disappointed and the bonds are rallying back," said Boris Rjavinski, U.S. interest-rate derivatives strategist in Stamford, Connecticut at primary dealer UBS Securities LLC. "With every subsequent weak data print, the story of an economic slowdown is becoming more consistent."
Valuation measures show U.S. sovereign securities are close to the most costly levels ever. The term premium, a model created by economists at the Fed, dropped yesterday to negative 1.023 percent, the all-time most expensive. It was at negative 0.986 today. A negative reading indicates investors are willing to accept yields below what's considered fair value.
Treasuries fell as the euro rose for the first time in six days today against the dollar and the yen after comments from the ECB's Nowotny on an ESM license.
'Pro Arguments'
"There are pro arguments" for giving the ESM a banking license, Nowotny, who heads Austria's central bank, said in an interview in his office in Vienna yesterday. "There are also other arguments, but I would see this as an ongoing discussion," he said, adding he's "not aware of specific discussions within the ECB at this point."
Granting a banking license to Europe's permanent bailout fund would give it access to ECB lending, easing concerns that the ESM's 500 billion-euro ($607 billion) cash reserves won't be enough if Spain or Italy require aid.
"There's some profit-taking in safe assets on the back of what Nowotny said," said Peter Chatwell, a fixed-income strategist at Credit Agricole Corporate & Investment Bank in London. "We don't know at this point if it will lead to any serious discussions, but it will be quite a policy shift in favor of peripheral bonds if that happens."
China Cooling
Treasuries gained earlier amid speculation global growth is slowing. The International Monetary Fund said China's cooling economy faces significant downside risks and it relies too much on investment.
Investors in futures that track the Fed's benchmark interest rate are betting that policy makers meeting next week will say they are prepared to keep rates unchanged until at least mid-2015.
The implied rates are below 0.5 percent for every maturity of fed funds futures traded on the Chicago Board of Trade, which lists contracts as far out as June 2015. The Fed has held the target rate for overnight loans at zero to 0.25 percent since December 2008 and pledged to keep it "exceptionally low" at least through late 2014.
Before it's here, it's on the Bloomberg Terminal.
LEARN MORE