U.K. Gives $7 Billion Rail Deal to Hitachi After 3-Year Wait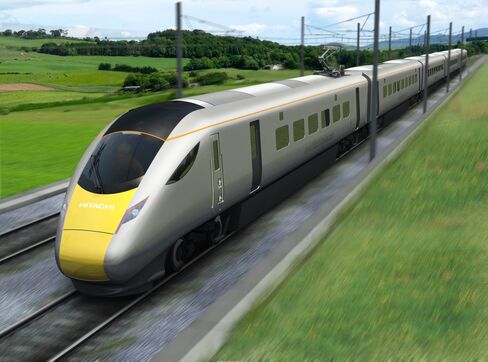 July 25 (Bloomberg) -- The U.K. awarded a 4.5 billion pound ($7 billion) train order to Hitachi Ltd. and John Laing, more than three years after the suppliers were named as preferred bidders for the contract.
The deal covers 92 trains totaling 596 rail carriages, which will be built at a new factory in County Durham, northern England, according to a Department of Transport statement today. The new plant will create 730 jobs and another 200 during construction, it said.
The trains will be used on intercity routes, including London-to-Bristol, after plans to upgrade the nation's rail network survived Prime Minister David Cameron's drive to cut government spending. The agreement also includes options for about 500 more trains and carriages, according to Hitachi.
"This contract gives us a chance to supply the poster train for the U.K. railways," Shinya Mitsudomi, the company's head of corporate development and strategy, told reporters in Tokyo today. "We'd like to build commuter trains and compete for sales in mainland Europe as well."
The Newton Aycliffe, County Durham factory will start production in 2015 and the trains will go into service from 2017, he said. The company has waited since 2009 to conclude the deal after a change of government and cost concerns caused delays.
Hitachi will open a European research facility at the County Durham site, according to the statement. The trainmaker will also construct maintenance depots in Bristol, Swansea, west London and Doncaster, as well as upgrading other facilities across the country.
125 MPH
The trains will have a top speed of 125 miles per hour (200 kilometers per hour) and the carriages will be 26 meters long, compared with 23 meters with the Intercity carriages, in line with mainland Europe vehicles, according to the statement.
The new trains are "great for rail passengers who will experience faster and more comfortable journeys," Transport Secretary Justine Greening said in the statement. "A new train factory is fantastic news for Britain and will be welcomed by everyone who wants to see a thriving U.K. manufacturing sector."
The trains will run in either a five-carriage combination capable of carrying 315 people, or in a nine-carriage setup able to hold 627 passengers, Mitsudomi said. Hitachi also provided high-speed trains for the British-side of the Channel Tunnel.
The new contract is part of the Intercity Express Program that was approved by the previous Labour government. The plan includes the electrification of the Great Western line from London's Paddington Station to Bristol, which will allow the replacement of 30-year-old InterCity 125 diesel expresses.
London-Edinburgh
The new trains may also be used on London-Hereford, London-Leeds and London-Edinburgh routes, according to the statement. They will be built by Agility Trains, which is 70 percent owned by Hitachi. John Laing, which is controlled by Henderson Group Plc, holds the rest.
The venture signed a 2.2 billion pound loan to help pay for the purchase and maintenance of trains for the Great Western Main Line, Japan Bank for International Cooperation said in a statement today. A group of banks will be providing funding, Hitachi's Mitsudomi said.
Hitachi, which also makes nuclear reactors and air conditioners, fell 2 percent to 434 yen in Tokyo trading today before the order announcement.
Bombardier Competition
The Conservative-led coalition confirmed Agility as the preferred bidder for the Intercity Express Program in November 2010, after the venture revised its offer. Bombardier Inc. was also on the shortlist.
The government the same month agreed to fund 2,100 railcars for delivery of over 8 1/2 years as part of a more than 20 billion pound push to improve services. That commitment included 600 railcars for the 16 billion-pound Crossrail route, which will provide the first east-west service across London by 2018.
"We are very happy to be able to provide our trains to the birthplace of the railroad," Japan Transport Minister Yuichiro Hata said in a statement. "We'd like to work on public and private sector tie-ups to enable our train technology to be used in railroad projects all over the world."
To contact the reporters on this story: Chris Cooper in Tokyo at ccooper1@bloomberg.net; Kiyotaka Matsuda in Tokyo at kmatsuda@bloomberg.net
To contact the editor responsible for this story: Neil Denslow at ndenslow@bloomberg.net.