NRG Rises After Agreeing to Buy GenOn for $1.8 Billion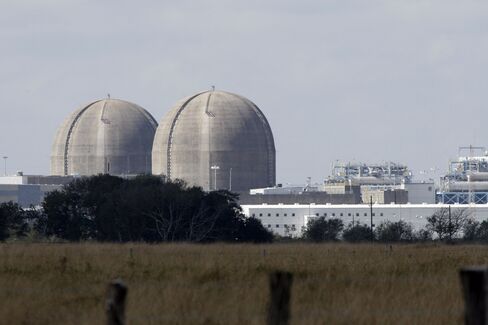 NRG Energy Inc. gained the most in three years after announcing plans to buy GenOn Energy Inc. in a $1.83 billion all-stock takeover to create the largest U.S. independent power producer.
The agreement, announced yesterday, would result in a company with about 47,000 megawatts of generating capacity, more than the nation of South Africa. With more power plants, the combined company would have the ability to withstand slumping U.S. electricity prices and capitalize on an eventual rebound, chief executive officers of both companies said.
"The all-share transaction is the latest in a series of mergers in the sector focused on minimizing cost structure given the pronounced power and gas downturn," Julien Dumoulin-Smith, a New York-based analyst with UBS AG, wrote in a research note today.
Under the agreement, GenOn holders will receive 0.1216 share of NRG for each of their common shares, a 21 percent premium to the July 20 closing price. GenOn rose 26 percent to $2.29 at the close in New York, the biggest increase since October 2008. NRG climbed 8.1 percent to $19.52, the largest gain since May 2009.
At those prices, Princeton, New Jersey-based NRG's offer values GenOn at $2.37 a share.
"In this industry, if you have the lowest cost structure, you are going to have success over time," NRG CEO David Crane said in a phone interview yesterday. Crane will remain president and CEO of the combined companies. Edward Muller, CEO of Houston-based GenOn, will join NRG's board as vice chairman.
Shares Rise
NRG's rise a sign its shareholders think the takeover is a bargain, said Andy DeVries, a bond analyst with Creditsights Inc. Acquiring company shares typically tumble following a merger announcement.
"It lends credence to GenOn shareholders holding together for a higher offer," he said in a phone interview today. There's a "greater than 50 percent chance" that shareholders will pressure NRG for a higher exchange ratio since GenOn's shares traded above the implied offer price for most of the first quarter, he said in a research note yesterday.
GenOn's large institutional shareholders have been "extraordinarily positive" and "absolutely supportive" of the transaction, Muller said today in a conference call with reporters.
"They see value and are pleased with it," Muller said. Independent power producers, which sell electricity on wholesale markets and don't have regulated utility units, have been harmed by low natural-gas prices and a drop in demand because of the U.S. economy, he said.
Merger Benefits
NRG sees $200 million in cost savings and $100 million in reduced interest expense annually starting in 2014, according to an investor presentation.
The forecast benefits will be mostly from cost savings instead of sales growth, Crane said today in a conference call with analysts. The companies will cut workers, decrease debt and attempt to reduce coal costs.
The combined company will have more cash than needed to back contracts, enabling to it cut debt by $1 billion, NRG Chief Financial Officer Kirk Andrews told analysts today.
"By putting the most competitive cost structure together, we are really not only in a position to survive but thrive in whatever price cycle lays in store for us going forward," Crane said during the media call.
Independent producers have been hurt by a more than 30 percent drop in electricity prices since 2008. At the same time, operators are facing increasing costs to comply with new environmental rules.
Adding Coal
Through July 20, GenOn had lost almost a third of its market value this year as slumping natural-gas prices have dragged down the price of electricity, shrinking revenues.
NRG would add coal plants in the mid-Atlantic with the GenOn purchase. The acquisition will allow NRG to expand its retail business in the Northeast, where the bulk of GenOn generation is located.
Power prices should rise since there's been a limited amount of new generation to replace older, coal-fired power plants being shut because of tougher U.S. environmental rules, Muller said in yesterday's interview.
The closing of coal-burning plants generating 33 gigawatts have already been announced, with an additional 22 gigawatts to follow, concentrated in the Midwest and Southeast, according to a Bloomberg New Energy Finance report on June 21.
NRG Board
NRG holders will own 71 percent of the new company. The combined company, which will be called NRG, will have its financial headquarters in Princeton and operational headquarters in Houston, according to the statement. The board will have 16 members, with 12 directors from NRG and four joining from GenOn.
The transaction is the first power deal announced since the closing three weeks ago of Duke Energy Corp.'s $17.8 billion purchase of Progress Energy Inc., which created the largest U.S. utility owner and was roiled by the last-minute ouster of Progress CEO Bill Johnson.
The transaction must be approved by shareholders of both companies, the U.S. Federal Energy Regulatory Commission, the New York Public Service Commission and the Public Utility Commission of Texas.
Crane and Muller said today in the media call that they don't see any regulatory obstacles to the deal or a need to sell assets to meet approvals.
"We don't expect market power issues to arise," Angie Storozynski, a New York-based analyst for Macquarie Capital USA Inc., wrote in a note to clients today.
Hostile Bid
NRG's purchase, worth about $4.2 billion including net debt, would rank as one of the largest sales of an independent power producer in U.S. history, according to data compiled by Bloomberg. Excluding spinoffs and bankruptcies, the only two rivaling it in size are NRG's 2006 purchase of Texas Genco for $5.8 billion including debt and Dynegy Inc.'s 2007 acquisition of LS Power Group's power plants for about $4.2 billion.
Muller, GenOn's CEO, made a hostile $7.9 billion offer to buy NRG in 2006 when he was CEO of Mirant Corp., a predecessor. NRG rejected the offer and Mirant instead merged with RRI Energy Inc. in 2010 to create GenOn.
Credit Suisse Group AG and Morgan Stanley advised NRG and JPMorgan Chase & Co. advised GenOn.
Before it's here, it's on the Bloomberg Terminal.
LEARN MORE