Bid & Ask: The Deals of the Week
Noteworthy expenditures of the week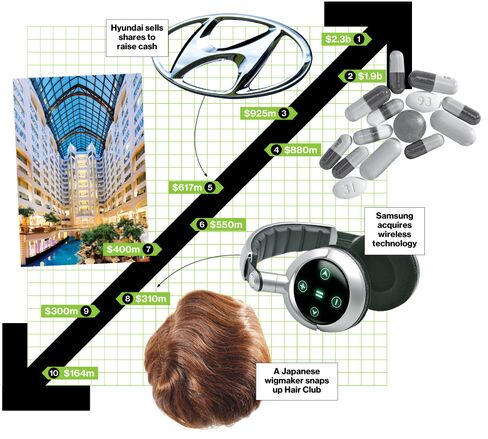 1. TCC Group, owner of Thailand's biggest beermaker, offered to buy Oversea-Chinese Banking's $2.3 billion combined stake in Fraser & Neave and Asia Pacific Breweries, according to two people with knowledge of the matter.
2. TPG Capital will pay $1.9 billion for generic drugmaker Par Pharmaceutical, as the private equity firm looks to profit from insurer efforts to curtail health-care costs.
3. The world's No. 2 health-care equipment maker, Thermo Fisher Scientific, will acquire closely held One Lambda for about $925 million to expand in transplant diagnostics.
4. Dublin-based packaging company Ardagh Group will purchase Anchor Glass Container from Wayzata Investment Partners funds for $880 million.
5. Hyundai Heavy Industries, the world's No. 1 shipbuilder, sold a $617 million stake in Hyundai Motor after one of its units shelved a stock sale plan.
6. State Street, which manages money and provides financial services to institutions, purchased Goldman Sachs Group's hedge fund administration unit for $550 million.
7. U.S. lodging real estate investment trust Host Hotels & Resorts bought the Grand Hyatt Washington for about $400 million.
8. The world's No. 1 mobile-phone maker, Samsung Electronics, is buying CSR's wireless unit for $310 million. CSR's technology is used in headphones and other products.
9. Comcast's NBCUniversal paid about $300 million to buy out Microsoft's half of their msnbc.com news website joint venture, according to a person with knowledge of the deal.
10. Salon operator Regis is selling its hair restoration division, Hair Club for Men & Women, to Aderans, a Japanese wigmaker and hair salon operator, for $164 million.
Before it's here, it's on the Bloomberg Terminal.
LEARN MORE