Korean Won Rises a Fourth Day on Fed Easing Optimism; Bonds Gain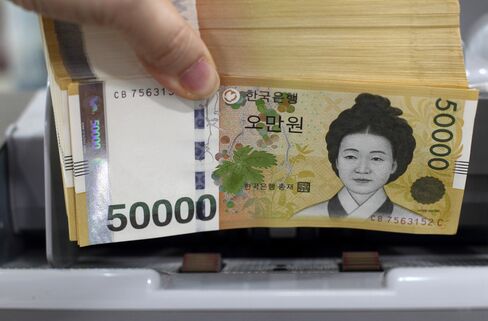 South Korea's won rose for a fourth day after the Federal Reserve signaled it is considering further monetary easing, which would spur fund flows into higher-yielding assets. Government bonds gained.
Fed Chairman Ben S. Bernanke said yesterday that possible stimulus measures could include another round of asset purchases. The won fell as much as 0.2 percent earlier after North Korea said it planned an "important announcement." The currency rebounded as the North's state news agency reported the nation gave the official title of marshal to leader Kim Jong Un.
"The market is now reflecting its original momentum, based on Bernanke's comments, as the North's announcement turned out to be nothing significant" for financial investors, said Yun Se Min, a Seoul-based currency trader for Busan Bank.
The won advanced 0.1 percent to 1,142.55 per dollar at the close in Seoul, according to data compiled by Bloomberg. It touched 1,137.80 earlier, the strongest level since July 6. The currency's one-month implied volatility, a measure of exchange-rate swings used to price options, slid 11 basis points, or 0.11 percentage point, to 7.50 percent.
The yield on the government's 3.25 percent bonds due June 2015 slid two basis points to 2.89 percent, Korea Exchange Inc. prices show. That matched the December 2010 level which was the lowest on record for a benchmark three-year note. The yield has stayed below the central bank's 3 percent benchmark rate since July 12.
Three-year debt futures advanced 0.09 to 105.93 and the one-year interest-rate swap slid six basis points to 2.88 percent.
"Global slowdown concerns dominate the bond market now, and with both three- and five-year yields below the benchmark rate, demand for longer-dated notes are growing," said Lee Gil Won, a Seoul-based bond trader for Shinhan Bank. "Some investors sold bonds after North's announcement plan but covered their short positions after the actual report."
A short position is a bet that an asset will decline.
Before it's here, it's on the Bloomberg Terminal.
LEARN MORE