U.S. Stocks Retreat After Bernanke Testimony Disappoints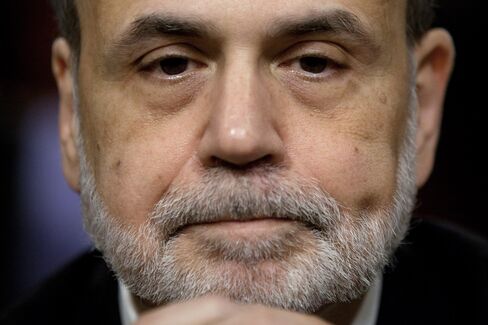 July 17 (Bloomberg) -- U.S. stocks fell, erasing early gains, as Federal Reserve Chairman Ben S. Bernanke's testimony to Congress disappointed investors anticipating a more definitive signal the central bank will provide more stimulus.
Exxon Mobil Corp. paced losses in energy companies as the price of oil fell for the first time in five days. JPMorgan Chase & Co. slumped 1.6 percent to help lead declines in financial companies. Broadcom Corp. erased 6.4 percent for the biggest drop in the Standard & Poor's 500 Index after Samsung Electronics Co. agreed to buy chipmaker CSR Plc's wireless unit.
The S&P 500 fell 0.2 percent to 1,351.06 at 11:13 a.m. in New York after climbing as much as 0.6 percent in the first half hour of trading. The Dow Jones Industrial Average lost 39.88 points, or 0.3 percent, to 12,687.33.
"People should not have been expecting Bernanke to come out telegraphing additional easing," Brian Jacobsen, who helps oversee $204 billion as chief portfolio strategist at Wells Fargo Advantage Funds in Menomonee Falls, Wisconsin, said in a telephone interview. "The expectation should have been he would effectively reiterate everything that's been said since the last meeting," he said. "Markets might find that disappointing but that's the reality."
Equities headed lower as Bernanke said progress in reducing unemployment is likely to be "frustratingly slow" and repeated the Fed is ready to take further action to boost the recovery, while refraining from discussing specific steps.
The S&P 500 has slipped in eight of the last nine sessions and is down more than 5 percent from a four-year high in April as economic data trailed estimates and investors braced for the first decline in quarterly profits since 2009.
Economy Concern
Bernanke's testimony follows data yesterday showing a contraction in June retail sales and a report today that the cost of living in the U.S. was little changed in June, a sign inflation may stay subdued.
The Citigroup Economic Surprise Index for the U.S., which measures how much data from the past three months is beating or missing the median estimates in Bloomberg surveys, is at minus 64, near the almost 11-month low of minus 64.9 reached last week. The gauge peaked at 91.9 in January.
Exxon Mobil, the world's largest energy company by market value, lost 0.8 percent to $84.39 as S&P 500 energy stocks slumped 0.8 percent as a group. JPMorgan Chase, the largest U.S. bank by assets, slid 1.7 percent to $34.50 as financial companies lost 0.6 percent.
Broadcom Tumbles
Broadcom, the maker of chips that help mobile devices connect to the Internet, lost 6.4 percent to $28.84 for the biggest drop in the S&P 500. Samsung Electronics, the world's largest mobile-phone maker, agreed to buy British chip designer CSR's wireless unit for $310 million in cash.
Berenberg Bank said the deal is negative for Broadcom because Samsung now will have the capability to produce combo chips in-house, while the Irvine, California-based company is the sole supplier of combo chips for Samsung's Galaxy smartphones and tablets.
Goldman Sachs Group Inc. added 0.8 percent to $98.48 after earlier rising as much as 2.9 percent. The fifth-biggest U.S. bank by assets reported an 11 percent drop in earnings that beat analysts' estimates on trading even as first-half revenue fell to the lowest since 2005. State Street Corp., the third-largest custody bank, bought Goldman's hedge-fund administration unit for $550 million. State Street shares lost 4.9 percent.
Coca-Cola Co. advanced 0.8 percent to $77.07 for the second-biggest gain in the Dow. The world's largest soft-drink maker reported second-quarter profit that topped analysts' estimates, helped by pricing increases in North America late last year.
To contact the reporters on this story: Inyoung Hwang in New York at ihwang7@bloomberg.net; Julia Leite in New York at jleite3@bloomberg.net
To contact the editor responsible for this story: Lynn Thomasson at lthomasson@bloomberg.net