Draghi Meets Noonan as ECB Shift Strengthens Irish Hand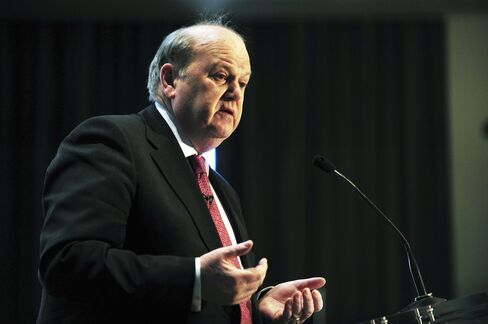 Ireland's Michael Noonan may press for a break on bank debt as he meets Mario Draghi after the European Central Bank argued for imposing losses on senior bondholders in failed lenders.
Noonan and the ECB President will discuss today in Frankfurt "the long-term sustainability of the Irish financial system," Paul Bolger, a spokesman for the Irish finance minister, said by e-mail yesterday. Those talks take place against the backdrop of a move by the ECB to advocate losses on senior bondholders at crippled euro-area banks, as cited yesterday by two officials with knowledge of the ECB's thinking.
Analysts including Conall Mac Coille at Davy say that development may help Ireland restructure its debt burden after a bailout of its banks. The country has already repaid most senior, unsecured and unguaranteed bondholders in former Anglo Irish Bank Corp. and Irish Nationwide Building Society, two lenders being wound down at a 34.7 billion-euro ($43 billion) cost to taxpayers.
"This strengthens Ireland's hand in any negotiations over the coming months on easing its bank costs," said Mac Coille, chief economist at the Dublin-based securities firm. "At the very least, it should help the government's long-standing campaign to refinance the promissory notes used to bail out Anglo and Irish Nationwide."
Promissory Notes
Draghi and Noonan will meet at 5 p.m. Frankfurt time, according a spokesman for the Irish Finance Ministry. In line with usual practice, Irish Central Bank Governor Patrick Honohan will join the meeting.
Noonan has been campaigning since September to re-engineer about 30 billion euros of so-called promissory notes -- or IOUs -- used to bail out Anglo Irish and Irish Nationwide, which are currently being wound down. Ireland has injected or pledged 64 billion euros into its banks over the past three years after the collapse of a domestic real-estate bubble.
Former Prime Minister Brian Cowen's government issued the promissory notes in 2010 instead of raising money in the debt markets. While the securities are currently repayable in annual 3.1 billion-euro installments for more than a decade, Noonan has said he may seek a bond from the euro-area bailout fund to refinance the notes and spread the cost over 30 years.
The notes are currently refinanced through the national central bank's emergency liquidity assistance program. The ECB Governing Council has a veto on the provision of this financing.
'Very Hesitant'
The ECB's change of position on senior bank debt emerged yesterday. The institution had consistently opposed handing losses to senior creditors of Irish banks following the near collapse of the country's financial sector. A key condition to imposing losses is if the bank in question is being wound down, one official said.
Austria's Finance Minister Maria Fekter told reporters in Vienna today that she was "very hesitant" to discuss imposing losses on senior bondholders for Spanish banks as this could rattle markets. She also said that it was too early to comment on conditionality for Spain's bailout.
Draghi is unlikely to rush into concessions on promissory notes.
"While it is a particularly Irish thing, so many precedents have already been set and taboos broken during this crisis that there may be nothing stopping Spain or Portugal coming up with similar schemes," said Christian Schulz, a former ECB economist now working for Berenberg Bank in London.
Irish 'Determination'
When asked at a press conference on July 5 what the optimal outcome of finance ministers' examinations of Irish banks would be, Draghi instead praised the country for adhering to its aid program and the "determination of the Irish government and the capacity of the Irish people to understand and 'own' this program and make the needed sacrifices."
The ECB is part of the so-called troika, along with the International Monetary Fund and the European Commission, which monitors Ireland's progress in implementing conditions for the country's bailout.
The Irish Bank Resolution Corp., the lender formed last year after the merger of Anglo Irish and Irish Nationwide, repaid $1.43 billion euros of senior, unsecured securities last month, the final large such batch of repayment by the lender.
The yield on Ireland's 5 percent security due in October 2020 was at 6. percent today. The rate was at 7.11 percent on June 28, and exceeded 14 percent about a year ago.
Toolkit Option
"It's quite possible that burning senior bondholders becomes part of the toolkit for Europe," said Eoin Fahy, an economist at Kleinwort Benson Investors in Dublin. While this specific policy may not help Ireland at this stage, "perhaps the best the government can hope for is to extend the Anglo loan to 50 years or 100 years," he said.
Michael McGrath, finance spokesman at Fianna Fail, the opposition party in power when the state guaranteed its banks in 2008, said the ECB shift on imposing losses on senior bank bondholders represents "an extraordinary U-turn" and helps Ireland's case in renegotiating its bailout burden.
Dermot O'Leary, an economist at Goodboody Stockbrokers in Dublin, said there's no guarantee that Spain and, by extension, Ireland will benefit from a change of policy on senior bonds.
"A serious mistake was made to pay back senior unsecured, unguaranteed creditors in Irish banks, but that horse has now bolted," O'Leary said. "Insanity is described as doing the same thing over and over again and expecting different results. The required capitalization of the Spanish banking system gives an opportunity to change course and get a different result."
Before it's here, it's on the Bloomberg Terminal.
LEARN MORE