Gillard Vows to Fight Australia Election on Economic Credentials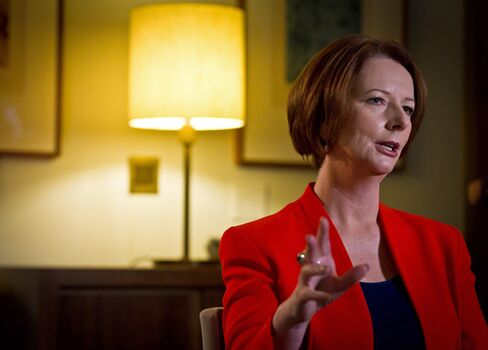 Australian Prime Minister Julia Gillard, trailing in opinion polls, said she will contest next year's federal election on her record of economic management.
"The next election will be fought on the reality of our record," Gillard told delegates attending a conference of her ruling Labor party in Sydney yesterday. "Our strong economy with our surplus, low interest rates, jobs. The fight's on and we will fight it and win it."
Gillard is running out of time to turn around the minority Labor government's performance in the polls after new taxes and lawmaker scandals eroded her popularity. Yesterday's speech shows she's looking to the nation's economic credentials, such as a report last month that gross domestic product grew in the first quarter at the fastest annual pace in more than four years, for a fillip.
Australian consumer confidence rose to a five-month high as households responded to the central bank's 1.25 percentage points of interest-rate cuts since November, a private survey showed on July 11. The sentiment index for July advanced 3.7 percent to 99.1, the highest level since February, a Westpac Banking Corp. and Melbourne Institute survey taken July 2-8 of 1,200 consumers showed.
Gillard's government unveiled a federal budget on May 8 that she plans to return to surplus next year and scrapped a planned cut in company taxes to fund payouts for low-and middle-income earners. Labor is aiming to give the central bank, which cut interest rates on May 1, the flexibility to lower borrowing costs in a nation where almost 90 percent of mortgages are at variable rates.
Cutting Rates
The Reserve Bank of Australia cut the benchmark rate by 50 basis points late last year and a total of 75 basis points in May and June. It now sits at 3.5 percent, still higher than most other developed-world central banks.
Unemployment rose in Australia in June, increasing speculation of a fifth interest-rate reduction by the central bank in nine months as Europe's clouded outlook restrains global growth. Still, the level of 5.2 percent compares favorably with countries such as the U.S., which is at 8.2 percent.
After the closest election in seven decades, Gillard put together a minority government in September 2010 with support from independents and Greens, who pledged their votes in parliament. In return, she backtracked on a promise not to create a tax on carbon emissions, which was implemented on July 1 along with new levies on iron ore and coal mining profits.
Gillard's Gamble
Gillard has been betting increased benefit payments to low-and middle-income households from revenue generated by the new taxes would alleviate a voter backlash in the run up to elections that must be held by November 2013.
In a bid to appeal to her Labor party's working-class base, then-employment minister Gillard introduced the Fair Work Act in 2009. It overturned former Prime Minister John Howard's unpopular "Workchoices" policy, blamed by his Liberal party for its 2007 election defeat.
An independent review of the act has been submitted and is due to be made public later this month, according to the government.
"We will use the Fair Work Act review to lock in fairness, to lock in bargaining in good faith, to lock them in for the future," Gillard said yesterday.
The Tony Abbott-led Liberal-National opposition extended its lead over Labor by 2 points to a 12-point margin on a two-party basis, which takes into account the nation's preferential voting system, according to a Newspoll published July 10 in the Australian newspaper. The survey of 1,141 people, conducted July 6-8, had a margin of error of plus or minus 3 percentage points.
Abbott's Tactics
Abbott, in the U.S. and China this week for diplomatic meetings, has been seeking to undermine the Gillard government's one-seat majority in parliament. He has called for the resignation of Craig Thomson from parliament after the former Labor lawmaker, whose vote Gillard relies on to pass laws, dismissed allegations he used a labor union credit card to pay for prostitutes.
Tony Crook, a National party member of parliament for Western Australia who voted as an independent, in May withdrew his support for the government. Peter Slipper, the parliamentary speaker on whom Gillard had relied to solidify her control of the house, in April stepped aside to deal with fraud and sexual-harassment claims that he denies.