Diego Maradona Fired as Dubai's Al Wasl Soccer Coach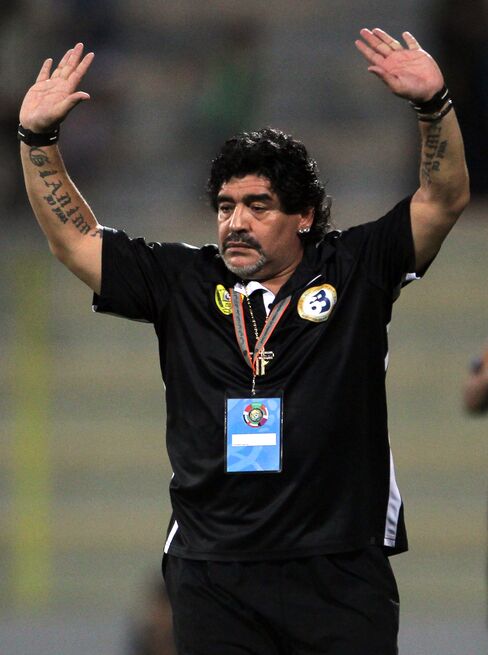 July 10 (Bloomberg) -- Diego Maradona, who led Argentina to the 1986 World Cup title as a player, was dismissed as manager of Al Wasl soccer club in Dubai.
"Diego Maradona and his coaching team have been fired," Al Wasl reported today on its Twitter account, without providing further details. Maradona had signed a two-year contract with the Dubai club when he was hired in May 2011.
Maradona, 51, led Al Wasl to the eighth position in the 12-team 2011-2012 Etisalat Pro-League, with eight losses and 10 wins. It was the Argentine's longest tenure as a club coach.
Maradona went to Dubai after his contract wasn't renewed to manage Argentina in July 2010, after the national team was knocked out of the World Cup on a 4-0 defeat to Germany in the quarterfinals.
He was captain of Argentina's team in 1986 when the South American country beat West Germany 3-2 in the World Cup final. Maradona was voted player of the century in 2000 in a poll organized by soccer governing body FIFA.
To contact the reporter on this story: Rodrigo Orihuela in Rio de Janeiro at rorihuela@bloomberg.net
To contact the editor responsible for this story: James Attwood at jattwood3@bloomberg.net