Dubai Group $10 Billion Talks Said to Lose RBS Support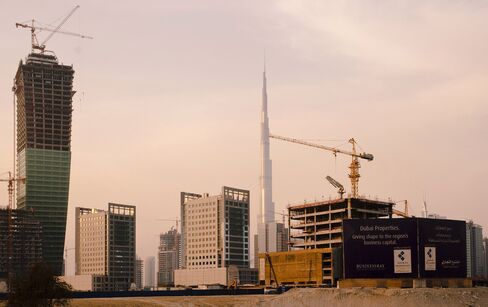 Royal Bank of Scotland Group Plc, Commerzbank AG and Standard Bank Group Ltd. abandoned talks with Dubai Group to restructure $10 billion of debt after failing to reach an agreement, two people familiar with the matter said.
The banks are dissatisfied with progress after 18 months of talks with the investment company, according to the people, who asked not to be identified because the discussions are private. RBS stepped down as co-chair of the coordinating committee of mostly unsecured lenders in the talks, one of the people said.
Dubai Group, controlled by Dubai Holding LLC, is among several government-owned companies in the Middle Eastern emirate seeking to restructure loans after property and asset values slumped and credit markets froze. The breakdown in talks comes after Dubai International Capital LLC reached an agreement with lenders to change terms on $2.5 billion of debt in April and Drydocks World LLC said creditors support restructuring plans.
"The divide between Dubai Group and its lenders was too wide to bridge," Ahmad Alanani, Middle East director at Exotix Ltd. in Dubai, wrote today in emailed comments. "I wouldn't be surprised if more lenders join the ranks of RBS, Commerzbank and Standard Bank in a bid to increase pressure on the company."
Dubai World
A spokeswoman for Dubai Group, who asked not to be named because of company policy, said it's still seeking to reach an agreement. Standard Bank won't comment because of client confidentiality issues, Erik Larsen, a spokesman for the Johannesburg-based lender, said by telephone. Martin Halusa, a spokesman for Frankfurt-based Commerzbank AG, declined to comment.
Reuters reported yesterday that the three banks abandoned talks with Dubai Group.
Dubai's benchmark stock index fell to the lowest in more than a week, dropping 0.2 percent to 1,488.39 at the 2 p.m. close. Dubai Investments PJSC, which owns stakes in 40 businesses, declined to the lowest level this month.
Dubai, home to the world's tallest tower and an indoor ski slope, roiled global markets in 2009 when Dubai World, one of the sheikhdom's three main state-controlled holding companies, announced plans to delay payments. The emirate received a $20 billion loan from the United Arab Emirates' central bank, the Abu Dhabi government and its banks to help it surmount the global credit crisis and the real estate crash.
Dubai World
Dubai World reached a deal in March 2011 with about 80 banks to delay payments on $25 billion of debt. Dubai International Capital, the owner of Travelodge Ltd., reached an accord to alter terms of $2.5 billion of liabilities in April.
Drydocks World LLC, which owns the Middle East's biggest shipyard in Dubai, received approval from an "overwhelming majority" of creditors for its $2.2 billion debt restructuring proposal, the state-controlled company said April 5.
Dubai Group appointed eight banks to represent creditors in two committees in 2011 to negotiate the terms on $6 billion of bank debt, with $4 billion owed to other investors. Paris-based Natixis SA's Nexgen unit and Mashreqbank PSC of Dubai make up the committee of secured lenders. RBS and Emirates NBD PJSC were leading the group of partially-secured and unsecured lenders.
Dubai Group invests in financial services and owns property in the U.S., according to its website. It holds stakes in companies including Dubai-based investment bank Shuaa Capital PSC, Cairo-based investment bank EFG-Hermes Holding SAE and BankMuscat SAOG in Oman.
Paying Interest
The company proposed paying interest of 1 percent to 2.5 percent in a $6 billion debt restructuring proposal, three people familiar with the plan said in April. Secured creditors, whose loans are backed by assets, will be repaid principal in three years, according to the people. Banks that offered partially secured and unsecured loans will be returned principal in 12 years and receive additional interest at the end of the loan term, they said.
"The restructuring was complex and with no government support many of Dubai Group's lenders felt disenfranchised," Exotix's Alanani said.
Before it's here, it's on the Bloomberg Terminal.
LEARN MORE