Visteon Rises After Offering to Take Over Halla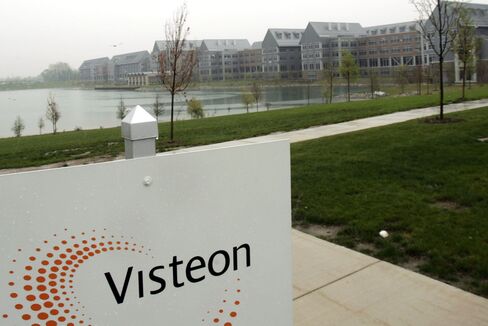 Visteon Corp., the auto-parts maker focusing on growing Asian operations, rose the most in more than eight months after making an $805 million tender offer yesterday for South Korea's Halla Climate Control Corp., a maker of air conditioning and heater systems for cars.
Visteon gained 1.3 percent to $37.66 at the close in New York. The shares earlier rose as much as 8.9 percent, the biggest intraday gain since Oct. 28.
The company's offer to buy the remaining 30 percent of Halla it doesn't already own, sent shares of the South Korean company up 12 percent to close at 27,850 won on the Korea Exchange, the biggest gain since May 2009. Visteon, based in Van Buren Township, Michigan, said in a statement it's offering 28,500 won ($25.11) a share, a premium of about 14 percent to Halla's closing price on July 4.
Visteon, which left bankruptcy in 2010, has been shedding lower-margin revenue in interiors and lighting to focus on faster-growing operations in Asia. Visteon is shopping two of its four units. In combination with Halla, Visteon said it's the world's second-largest supplier of climate-control systems.
"This transaction will pave the way for HCC to play an even greater role in the global climate market, while reinforcing its leadership position in Korea," Visteon Chief Executive Officer Don Stebbins said in the statement. "It also will facilitate future investment in climate technology."
Visteon Losses
Visteon in May reported a first-quarter net loss of $29 million, its second consecutive quarterly deficit after four straight profitable quarters. The parts maker has been plagued by losses since it was spun off in 2000 by Ford Motor Co. The supplier has expanded business with automakers other than Ford and narrowed its product offerings.
Visteon also said yesterday it ended an agreement to sell the majority of its interior business to Yanfeng Visteon Automotive Trim Systems Co., its joint venture with Shanghai-based Huayu Automotive Systems Co.
Halla's second largest shareholder, South Korea's National Pension Service, which holds a 9.1 percent stake, has not yet said it will accept Visteon's tender offer, Stebbins said today. About 1,000 shares have been tendered so far, he said.
"We believe the purchase price as offered is an extremely fair and reasonable one," Stebbins said on a conference call.
Visteon and Halla would realize $20 million in savings from the combination in the first full year of operation, Stebbins said. That figure will rise as Visteon and Halla combine design and engineering functions, he said.
Design, Engineering
"The commonization of designs and engineering are probably two large areas for us and that takes some time in terms of implementing it," Stebbins said. "I would think that the operational synergies would ramp up, probably be double what it is in the first year, maybe triple, over three years."
After-tax savings in the first full year will add 38 cents to diluted earnings per share, Stebbins said.
The deal would enable Visteon's climate-affiliated profit margins to grow to 13 percent by 2015, from 8.9 percent last year, before interest, taxes, depreciation and amortization, Stebbins said.
"For Visteon, it's the decision aimed at boosting profits given Halla's relatively high dividends," Kim Yoon Ki, an analyst at Mirae Asset Securities Co., said by phone. "Once the tender offer succeeds, Visteon will seek de-listing of Halla."
Corporate Structure
Kim said the tender offer probably will succeed because of recent share-price weakness in the auto industry. Visteon has set a closing date of July 24 for at least 95 percent of shares to be tendered. Goldman Sachs Group Inc. and Rothschild are advising Visteon on the transaction.
Visteon gained majority ownership of Halla Climate from Ford in 1999.
Visteon began simplifying its corporate structure in November when it signed a nonbinding memorandum of understanding to sell most of its interiors unit to Yanfeng Visteon, the Chinese joint venture with SAIC Motor Corp. The faltering European economy led to the collapse of that deal, Stebbins said, and now "all options are on the table."
"We made the decision that our two core businesses are climate and electronics, so we need to move down the path of exploring what other opportunities we have for that business," Stebbins said of interiors. "Be it joint venturing with another party, be it looking at trying to divest certain portions of the business."
Visteon Shrinks
The company agreed to sell its lighting unit to Varroc Group of India in March for $92 million. The unit, which supplies automotive exterior lights, had revenue of $531 million last year. Visteon Oct. 31 sold a part of its stake in Duckyang Industry Co., an interiors joint venture, and it no longer had a controlling interest.
Visteon now has about 40 percent of the revenue it had in 2000, when it spun off from Ford. Originally dependent on the North American market, in 2011 Visteon got 42 percent of its sales from Asia and 36 percent from Europe.
Hyundai Motor Co. and its affiliate, Kia Motors Corp., both based in Seoul, account for 72 percent of Halla's business, Stebbins said. Ford represents 10 percent of Halla's billings, while other automakers make up the remaining 18 percent.
"We understand the huge, significant importance of HMG in this move," Stebbins said. "We believe we've done the necessary work to give the tender the best chance of success."
Visteon also said it will spend $50 million to build a wind tunnel and to expand its manufacturing base in Korea.