In Apple, Nintendo's New Console Faces a Powerful Foe
The new Wii U console already has a competitor: AirPlay Mirroring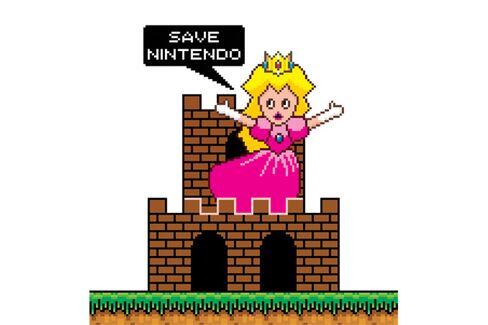 Nintendo successfully fended off Sega, Microsoft, Sony, and other console makers to become the king of casual games. But the Mario creator found a much more insidious foe in the form of Apple. The popularity of iPhone and iPad titles such as Angry Birds has ravaged console sales for Nintendo, leading to a loss of nearly half a billion dollars last year, its first in three decades.
This fall, Nintendo will punch back with its Wii U, the video game industry's first new console since 2006. It takes some obvious cues from the iPhone. The set-top console box comes with a GamePad touchscreen controller that looks like an enlarged smartphone with two small joysticks stuck on top. The big screen on the controller will provide extra information to players as they manipulate games on their TVs, and can become the primary screen when they move around the house. The Wii U also includes new social networking features so players can cooperate with or battle against each other.

Yet Apple may once again overshadow the Kyoto company. In a recent software update, Apple's newer tablets and smartphones got a feature called AirPlay Mirroring, which lets people use their touchscreen devices as controllers while transmitting gameplay to a full-size TV. In Gameloft's Modern Combat 3: Fallen Nation, for instance, players use their mobile devices as guns while fragging bad guys on their TVs. Real Racing 2, a $6.99 app download from Electronic Arts, lets competitors race each other using iPads as steering wheels. "Taking advantage of the smartphone screen and displaying something different on the TV is the real power behind it," says Alan Queen, the founder and chief technology officer of gaming company MOVL.
Experts say the new capabilities could encourage developers to create more complex, serious games for Apple's App Store, which has been dominated by 99¢ time-wasters. "This is the next stage of the console battle," says Roy Bahat, president of videogame media company IGN Entertainment. "The TV is the most valuable gaming screen; three-fourths of the revenue flows through television. To date, it's the least disrupted screen and that creates a lot of opportunities."
Apple has inertia on its side. While Wii U fans will have to spend at least $250 for the new console, AirPlay Mirroring works with more than 100 million newer iPads, iPhones, and iPod Touches already in homes (though users need a $99 Apple TV or $40 cable to connect to their TV set). That large audience could command the attention of third-party gamemakers. "Developers are pretty coin-operated; they just want to make the most money," says Jeremy Liew, a partner at venture capital firm Lightspeed Ventures Partners who has invested in game companies such as Playdom, which was bought by Walt Disney in 2010. "They will make games that have the most potential players."
Wooing outside developers has always been a challenge for Nintendo, since hit franchises like Super Mario Bros. and The Legend of Zelda have historically been made internally. President Satoru Iwata admits that Nintendo-made games account for the majority of the profits generated by Wii titles. Big gamemakers such as Electronic Arts and Activision Blizzard say they prefer creating titles for Sony's PlayStation 3 and Microsoft's Xbox 360 because of their high-definition graphics and online stores, two features the current Wii lacks.
With the new Wii U, however, Nintendo will unveil its own Web store and wireless credit-card reader to make it easy for players to buy games and upgrades via the GamePad. Iwata says Nintendo will also give publishers pointers on making hit games and put more money into marketing good ones. "The possibilities are limitless," says Reggie Fils-Aime, the president and chief operating officer of Nintendo of America.
Yet the company had only one third-party publisher at the giant E3 video game tradeshow in June to talk up new titles. Ubisoft said it is developing a zombie shooting game for Wii U and converting some of its existing titles to work with the new console. Executives at two other major video game publishers, who declined to be named for fear of harming their relationships with Nintendo, say that they will wait to see whether Nintendo's new system catches on before committing money to it.
The situation could change entirely if Apple goes ahead with its reported, but unconfirmed, plans to build a TV set—a longtime goal of Steve Jobs, who shortly before his death told his biographer that he had "finally cracked" the problem. An Apple TV set might be as powerful as a computer, and "once you get that kind of experience on your TV, you can say 'Why do I need to buy a PlayStation?'" says Tim Chang, a venture capitalist at the Mayfield Fund.
Before it's here, it's on the Bloomberg Terminal.
LEARN MORE