Micron's Elpida Purchase Sets Up Samsung Challenge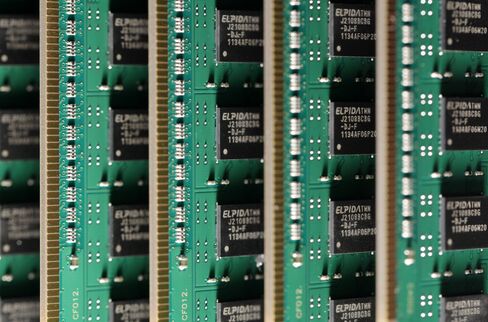 Micron Technology Inc.'s 200 billion yen ($2.5 billion) purchase of bankrupt Japanese chipmaker Elpida Memory Inc. will give the U.S. company a stronger foundation to challenge Samsung Electronics Co. in the market for memory used in computers and mobile devices.
"We can see so many synergies and so many opportunities to really become a much stronger competitor in the memory space," Chief Executive Officer Mark Durcan said in a Bloomberg Television interview today. "While we're not quite as big as Samsung, we are now, or will be on the close of this transaction, the clear No. 2 in the memory industry."
Acquiring Elpida, an Apple Inc. supplier, would double Micron's share of the global market for DRAM, the most widely used memory chips in personal computers, to about 24 percent. The deal also expands Micron's offering into types of memory used in smartphones and tablets while giving it greater control over supply gluts that have caused it to report losses amid falling prices.
Micron will pay 60 billion yen in cash at the closing of the deal, while the remaining 140 billion yen in future annual installments through 2019 will come from cash flow generated by Boise, Idaho-based Micron's payment for chips made by Elpida, according to a statement yesterday. Micron shares rose.
"This is a transformative acquisition," said Dan Berenbaum, an analyst at MKM Partners in Stamford, Connecticut, who recommends buying Micron shares. "The structure of the deal is great. Only $1.1 billion in cash upfront is much lower than most were expecting."
Elpida Debt
The deal will settle all of Elpida's debt. Micron, the largest U.S. maker of computer memory, won approval from the Tokyo District Court in May to negotiate to buy Elpida's entire business after the Japanese company held two rounds of bidding. Today's agreement is subject to court approval, which Elpida will seek in August, and sign off from Elpida creditors. The transaction will close in the first half of 2013, Micron said.
Merging the two companies will give Micron 35 percent of global capacity for dynamic random-access memory, a standardized chip that's the most common memory used in computers, and 24 percent of market revenue, Taipei-based DRAMeXchange said. Samsung controlled 41 percent of the market, in revenue terms.
Mobile DRAM
"When we look at the customer base of Micron and Elpida there's significant overlap, but there's also some places where they're stronger and we're weaker," Durcan said. "Elpida at the moment has a very strong mobile DRAM offering, and of course that's interesting to lots of mobile customers. Apple is one of those types of customers."
Micron's share of the market for mobile DRAM, a specialized form of memory used in phones and tablets, will almost quadruple to 19.7 percent from 5 percent, overtaking SK Hynix's 18.9 percent share and trailing Samsung's 59.6 percent, the researcher said.
Mobile memory sells for about four times that of similar capacity computer memory, according to DRAMeXchange data. Computer DRAM supply currently exceeds demand with an increase in price unsustainable, it said June 28.
"Given they're taking mobile DRAM capacity from Elpida, it could be a threat to Samsung and Hynix in the mid-to-long term," said Kim Hyung Sik who rates Samsung and SK Hynix buy at Taurus Investment Securities Co. in Seoul. "The whole point of the acquisition" is Micron's continued investment in mobile memory.
Nam Ki Yung, a Seoul-based spokesman for Samsung, declined to comment on the deal.
Rexchip
Micron rose 3.8 percent to $6.55 at 4 p.m. in New York trading, its fifth consecutive gain. The stock has gained 4.1 percent this year.
In a related transaction, Micron also agreed to buy Taiwan-based Powerchip Technology Corp.'s 24 percent stake in Rexchip Electronics Corp. for about NT$10 billion ($334 million). The deal will give Micron control of manufacturing facilities that will boost its output by about 200,000 silicon wafers per month, or 50 percent.
Including Elpida's stake, Micron will own 88 percent of Rexchip after the deal, Sandy Kuo, deputy spokeswoman for the Taichung-based company said by phone today.
Powerchip climbed its daily 6.9 percent limit to 62 NT cents as of 10:13 a.m. in Taipei, the most since March 3. Rexchip added 8 percent to NT$10.80 the highest intra-day level since Feb. 24. Rexchip has no immediate plans to delist from Taiwan's GreTai over-the-counter exchange, Kuo said.
Bankruptcy Filing
Elpida sought protection from creditors in February after prices of DRAM chips plummeted. The lower prices and a stronger yen, which erodes the value of repatriated earnings from overseas, led to a fifth straight quarter of losses.
SK Hynix, the only company that had publicly expressed interest in buying Elpida at the time, decided not to participate in the second round, the Icheon, South Korea-based manufacturer said May 4.
President Yukio Sakamoto is heading Elpida's restructuring efforts as a court-appointed trustee. The company plans to submit its revival plan by Aug. 21. There was no direct Japanese government involvement in the deal, Micron's Durcan said today.
Micron reported a fourth consecutive quarterly loss on June 20 after sluggish demand for personal computers dragged down chip prices. The company had a net loss of $320 million in the three months that ended May 31, compared with profit of $75 million a year earlier, Micron said.
Elpida Rebound
Elpida's business is improving, Micron Chief Financial Officer Ron Foster told analysts on a conference call. The transaction will begin to contribute to cashflow and earnings per share within twelve months, he said.
Under the terms of the deal, Micron is getting factories at less than one third of the cost of building them from scratch and expects to be able to reduce its spending on plants and equipment, Durcan said on a conference call.
"Our customers want this deal because we're not competing with them," Durcan said. "You still have to go out and win the business, but that will help us at the margins."
Before it's here, it's on the Bloomberg Terminal.
LEARN MORE