U.K. Net Mortgage Lending Falls as Consumers Retrench: Economy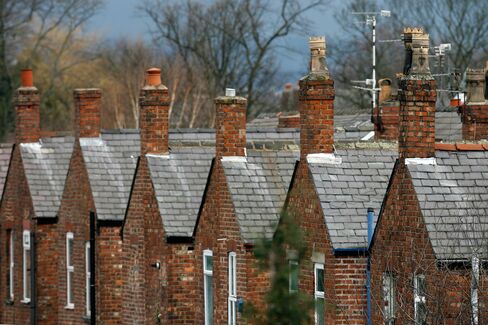 Britons repaid more mortgage debt than they borrowed in May for the first time in at least 15 years as consumers sought to improve their finances, the British Bankers' Association said.
There was a net repayment of 73 million pounds ($114 million), compared with net borrowing of 516 million pounds in April, the London-based trade group said in a report today. That's the first time repayments were higher than lending since the BBA began keeping the data in 1997. Mortgage approvals fell to the lowest in more than a year.
The data point to continued caution among U.K. consumers as the euro-area debt crisis intensifies, and signal that the property market may struggle to recover. The Bank of England and the U.K. Treasury are working on a new program to encourage lending and aid economic growth that they plan to have operational within weeks.
The numbers are "unambiguously weak," said Ed Stansfield, chief property economist at Capital Economics Ltd. in London. They "offer further grounds for concern about the impact that the escalating euro-zone crisis is having on both U.K. confidence and credit conditions."
High unemployment, weak consumer confidence and tight lending conditions are undermining demand for homes in the U.K. A Bank of England survey in March showed lenders expected the availability of both secured and unsecured credit to households to decrease in the current quarter.
BOE Lending
The BBA said the number of loans banks granted to buy homes fell to 30,238 in May from 32,103 in April. That's the lowest since April 2011. From a year earlier, mortgage approvals were down 3.4 percent. While gross mortgage lending rose to 7.9 billion pounds in May from 7.6 billion pounds in April, it was below the average for the previous six months as the housing market "continued to see subdued activity."
The Bank of England's "funding for lending" program will allow lenders to swap assets with the central bank in return for money to be loaned to companies and households. Governor Mervyn King said yesterday there must be discussions with the European Commission on the plan before details can be published.
Stansfield said today's data highlight the risk that it may "struggle to make much short-run impact."
"Boosting the supply of finance will only help if the demand for credit is there," he said. "And on that score, the latest signs are not encouraging."
Euro Crisis
A separate report today by the Confederation of British Industry showed an index of U.K. retail sales rose to its highest level since 2010 this month, boosted by the additional public holiday for Queen Elizabeth II's Diamond Jubilee.
The gauge of annual sales growth jumped to 42 from 21 in May. Still, sales were below their average for the time of year, and the CBI said uncertainty over the economic outlook is "putting a brake on consumer spending."
As European leaders prepare for their 19th crisis summit on June 28-29, King said this week he is "pessimistic" about the outlook for the euro area. While the Bank of England left its bond-purchase program on hold this month, most officials said more stimulus was likely to become warranted. The Monetary Policy Committee meets next week and will announce its decision at noon on July 5.
Consumer Outlook
In Japan, Prime Minister Yoshihiko Noda risks stalling the economy by pushing through a higher sales tax that may damp consumption even as it aids efforts to tame the world's largest debt burden. UBS AG and Itochu Corp. said the nation's recovery after last year's earthquake and tsunami could grind to a halt in 2014 when the first increase will take effect,
Parliament's lower house yesterday approved the bill to raise the tax to 8 percent and then 10 percent in 2015 from 5 percent now. A slump would be a repeat of 1997, when an increase in the levy contributed to pushing the economy into a 20-month recession.
Elsewhere, an index measuring South Korean manufacturers' confidence for July fell to the lowest level in four months, and a gauge at non-manufacturing companies also declined. New Zealand reported a narrowing of its trade surplus in May as the biggest jump in imports since November, led by crude oil and gasoline, outpaced a gain in shipments abroad.
In Europe, Germany may say consumer-price inflation slowed in June, according to a Bloomberg News survey. Six German states reported cooling price growth this month before the national data is released later today.
The U.S. Commerce Department may say durable goods orders rose for the first time in three months in May, while the National Association of Realtors is forecast to report the number of Americans signing contracts to buy previously owned homes grew in May from April, economists predicted.
Before it's here, it's on the Bloomberg Terminal.
LEARN MORE