Google Leaps Deep Into Hardware With Its Nexus 7 Tablet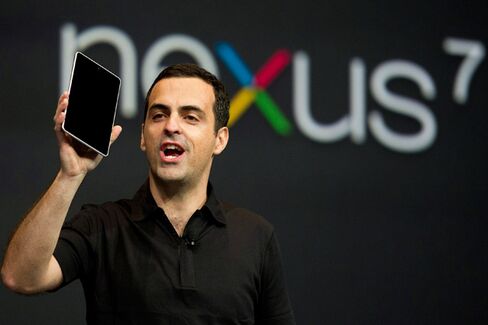 Throwing down its gauntlet in the fierce wars for the booming tablet market, Google today unveiled the Nexus 7 tablet, an Android-powered slate running the latest version of Google's Android operating system. The device has a 7-inch screen similar to the Amazon Kindle Fire, but it exploits all the deep technological assets of the search giant. YouTube runs fluidly on the device; owners can buy books, music, movies, and games from the Google Play app store; and such services as maps and Google's language-translation tools are easily accessible.
Taiwanese manufacturer Asus (2357:TT) will make the device, which will cost $199 and ship in mid-July. The product is a formidable competitor in particular for Amazon.com, which succeeded last year in creating a market for small, cheap tablets alongside Apple's thriving iPad. Amazon and other tablet makers will now have to significantly raise their game or altogether get out of the business of trying to make tablets.
Google also unveiled plans to push further into hardware, a strategy it furthered with its purchase of Motorola that closed earlier this year. The Nexus Q is a black sphere, reminiscent of a sci-fi movie prop, that connects to speakers or a TV and can stream music, shows, or movies from Google's Play store. It's similar to the Apple TV set-top box, with a catchier industrial design and social features to share song playlists and listen to music with friends who also have the Q. The device costs $299 and is "the world's first-ever social streaming device," said Google's Joe Britt.
These product plans were unveiled at Google I/O, the company's annual conference for developers. The event was held in San Francisco just two weeks after Apple unveiled the new iOS operating system at its Worldwide Developers Conference in the same convention venue. The two companies are investing and competing fiercely to create the software and hardware for a new generation of mobile devices that connect to the cloud and link to the vast world of media. Last week, Microsoft entered the market as well with its forthcoming Surface Tablet.
All these announcements, though they have come on one another's heels, underscore a momentous shift in the computer industry toward fast, sleek, and (sometimes) cheap hand-held devices.
Google's conference continues through Friday. The company is also promoting updates to its striving social network, Google+, new features for Android, and updates for long-term projects like Google Glass, its Internet-connected spectacles. The latest prototype, Google said, weighs less than a pair of sunglasses and can capture video while a person jogs or plays with her kids.
In the morning's best demo, company co-founder Sergey Brin took the stage and asked a group of base jumpers wearing the glasses to leap out of an overhead zeppelin. Piping live video into the convention center, the jumpers sprang from the blimp and landed on the roof, then walked into the demo hall to thunderous applause—a pointed reminder of the risks Google is willing to take to extend its dominance from the search bar into new markets.
Before it's here, it's on the Bloomberg Terminal.
LEARN MORE