Latin America Raises Pressure on Paraguay for Impeachment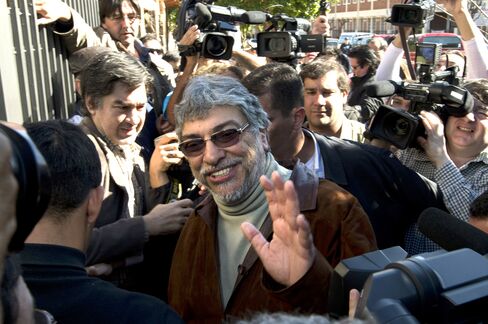 Latin American governments are stepping up pressure on Paraguay after Congress ousted Fernando Lugo from the presidency, with Argentina and Brazil withdrawing their ambassadors and Venezuela halting oil supplies.
Lugo, a former Roman Catholic bishop, was removed from office in a 39-4 vote on June 22 by the opposition-controlled Senate for encouraging land seizures and fomenting violence, 24 hours after the lower house voted to impeach. Vice President Federico Franco, a one-time ally turned critic of Lugo, was sworn in as president and today appointed most of his ministers.
Mercosur leaders will debate suspending Paraguay from the trade bloc at a previously scheduled summit this week in Mendoza, Argentina, according to a Brazilian government official who spoke on the condition of anonymity because he's not authorized to discuss the matter. Lugo is urging supporters to oppose the government and will speak at the meeting of Mercosur, whose members buy almost half of Paraguay's exports.
"There has been a breakdown in the democratic institution that must be reestablished," Lugo told reporters today in images transmitted on Chilean television. "The majority of the international community recognizes we had an institutional breakdown in the democratic process here."
The Organization of American States' permanent council moved up by one day to June 26 a special meeting in Washington to address Paraguay after its secretary general, Jose Miguel Insulza, last week called the impeachment process "rushed."
Hugo Chavez
South American countries including Brazil, Mexico, Chile and Peru have called their ambassadors to Paraguay back for consultation, while Ecuador and Bolivia have said they won't recognize the new government. Venezuela will stop sending Paraguay fuel under a program that was designed to help lower-income countries in the region.
"We won't support a coup d'etat directly or indirectly," Venezuela's President Hugo Chavez said yesterday after announcing the end to oil shipments. "That was an express trial, illegal, unconstitutional, invalid and worthless. The president of Paraguay continues to be President Fernando Lugo."
Venezuela sent 7,500 barrels of oil and oil products a day to Paraguay in 2011, according to state-owned Petroleos de Venezuela SA.
April Elections
Franco, whose Authentic Radical Liberal Party partnered with its arch-rival the Colorado Party to remove Lugo, said that he'll lead a transitional government until elections scheduled for April 2013 take place. The superior court of electoral justice today ruled out bringing forward elections.
"It's very easy for Paraguay to wait until these elections happen and then everyone will say, 'As long as the elections were held in free and fair conditions, it's a new day and we turn the page,"' Ted Piccone, senior fellow and deputy director for foreign policy at the Washington-based Brookings Institution, said by telephone today.
Since ending six decades of Colorado Party rule in 2008, Lugo had failed to build support in Congress for his policies of redistributing land in the world's fourth-largest soybean exporter. The event that precipitated the impeachment came on June 15, when a shootout between landless peasants and police left 17 dead, including six police.
Lugo, 61, was also blamed by opposition lawmakers for ceding Paraguay's energy sovereignty to its neighbors, according to the text of the impeachment bill. He demanded more time to prepare his defense against the charges and said today that he wouldn't recognize Franco's presidency.
"The national constitution allows for resistance," Lugo said. "We're calling for it to be peaceful."
U.S. Position
The U.S. is consulting with partners in the region on Paraguay and hasn't decided whether to recall its ambassador, State Department spokeswoman Victoria Nuland told reporters today in Washington.
"It's difficult to imagine what closure is going to be here," Larry Birns, director of the Washington-based Council on Hemispheric Affairs, said today by phone. "It's going to be a product of innovation that is going to allow face to be saved and outrage to be calmed. The danger here is the sparks that might set things off."
While Lugo struggled throughout his presidency to build alliances, he oversaw a period of economic prosperity.
Spurred by strong demand for beef and soy, especially from China, gross domestic product expanded 3.8 percent last year and 15 percent in 2010, the fastest in Latin America, according to the United Nations' economic unit for the region, known as Cepal for its initials in Spanish.
Healthy Economy
"A lot of people ask how there could be an institutional breakdown in a country where the economy is healthy, where it has major reserves with inflation under control and monetary stability," Lugo said today.
Still, Paraguay suffered a drought in the first quarter and will see its GDP contract 1.5 percent in 2012 -- the only economy in the region to shrink, according to forecasts published by Cepal this month.
And while strong growth and better public finances helped the country win two credit rating upgrades since 2010 from Standard & Poor's, the company today cited the impeachment as justification to put Paraguay's BB- rating outlook to negative.
The landlocked nation is dependent on trade with Mercosur neighbors, which accounted for an average of 48 percent of its exports and 41 percent of imports from 2006 to 2010, according to its central bank. Mercosur hasn't taken any steps to sanction Paraguay, whose commercial rights in the bloc remain in effect, Montevideo-based newspaper El Observador reported today, citing Uruguay's Foreign Affairs Minister Luis Almagro.
Franco, a former surgeon, told Congress he'll continue with Lugo's government plan until his successor takes office in August next year. Central bank President Jorge Corvalan will remain in office while Lugo's Finance Minister Dionisio Borda resigned.
Before it's here, it's on the Bloomberg Terminal.
LEARN MORE