Rio's Earth Summit Bigger Than Liechtenstein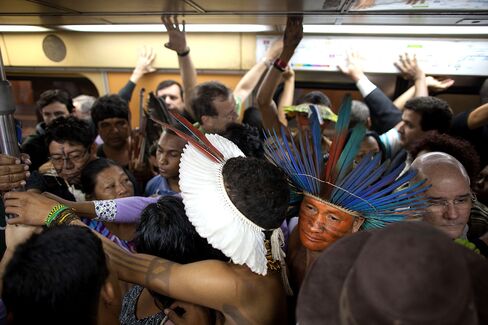 By Reed Landberg
The Rio+20 Summit is the biggest-ever conference organized by the United Nations, said Pragati Pascale, the lead spokeswoman for the meeting in Rio de Janeiro. The UN issued 45,381 passes for the Riocentro conference center. That includes 10,822 passes for national delegations; 9,856 passes for NGOs and the Major Groups (What's a Major Group?); and 4,075 for media. Security personnel took up another 4,000. Thousands more observers attended conference and the "Dialog Days" held in the run up to the arrival of the world leaders.
By comparison, the 1992 Rio Earth Summit had about 17,000 participants.
Landberg is renewble energy editor for Bloomberg News.
Read complete Bloomberg News coverage of the UN Rio+20 Conference on Sustainable Development.
Visit www.bloomberg.com/sustainability for the latest from Bloomberg News about energy, natural resources and global business.
-0- Jun/22/2012 16:18 GMT