Sustainability Sprouts Through Slum on Brazilian Hillside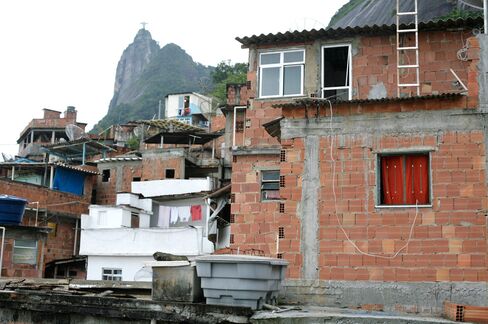 By Alex Morales
It's impossible to come to Rio de Janeiro without seeing the city's slums, known as favelas.
They're collections of ramshackle buildings clinging precariously to the steep hillsides in the city. They overlook shiny new skyscrapers, luxury hotels and Rio's pristine beaches, where beautiful people with chiseled bodies bob in the waves.
Rio is a city of stark contrasts, like other places where an infusion of wealth has created supermodern oases alongside squalor. About 22 percent of the city's residents, or 1.4 million people, live in favelas. Authorities can't eliminate the economic disparities, but it's possible to improve the lives of the lowliest inhabitants among the city's population by bringing them basic services such as paved roads, electricity and covered sewers.
That's what the city's "Morar Carioca" program is all about. Morar means to live, and Carioca is the word for someone born in Rio. In two favelas perched on the hillsides above Copacabana Beach, city authorities are trying to take the project a step further by adding a sustainable, "green" element -- or "Morar Carioca Verde."
The green scheme will bring sustainable materials and construction methods to urbanizing areas, including the two new green favelas, Babilonia and Chapeu/Mangueira, according to Jorge Bittar, the secretary of housing for Rio de Janeiro. "Our buildings have places for rain water reuse and solar energy. For paving streets, we use old recycled car tires," he said.
Rio is hosting what the United Nations has called its biggest-ever conference, a gathering from June 20 to June 22 of 50,000 people including 130 world leaders who are trying to chart paths to poverty eradication and to growth that doesn't degrade the environment. It's known as Rio+20 and marks two decades since the same city hosted the 1992 Earth Summit that spawned treaties about climate change and biodiversity.
Surrounding Rio+20 is a host of other conferences, including one for the C40 Cities Climate Leadership Group. They're determined to show that while national governments might be dragging their feet on environmental protection measures, particularly to prevent climate change, cities are actually acting.
The best way to do that is to spotlight individual projects. Rio de Janeiro Mayor Eduardo Paes took New York Mayor and C40 Chairman Michael Bloomberg on a tour of the Babilonia project, along with four minibuses full of journalists and photographers.
The journalists arrived first, with the convoy kicking up a cloud of dust. Half an hour or so later, Paes and Bloomberg appeared with a security detail and whisked through the lower reaches of the favela.
The smell of fresh cement signals newly paved roads. Steps wind upward through construction sites, where new apartments will stand. Families are relocating from their illegal dwellings higher up the hillside, where half-built homes sprouted in areas that are protected to prevent landslides. Newly laid turf and plants in pots flank the paths. The visitors moving in the mayors' entourage along with tight security are watched from surrounding rooftops and walls.
Paes and Bloomberg unveiled a plaque commemorating the occasion, spoke to city officials and posed for photos. Most of those watching the strange procession were construction workers, who an aide to Paes said were largely recruited from the favelas.
The 10-year, 8 billion reais ($4 billion) Morar Carioca program began in April 2010 and so far covers 70,000 households, said Bittar. The 43.4 million-reais green program started a year later and covers the 6,000 residents of the Babilonia and Chapeu-Mangueira favelas.
The goal is to "urbanize" every favela in Rio, totaling 280,000 households, bringing roads, sewers and power by 2020. Bittar says he wants to integrate the green elements across the whole program.
"We have more expensive costs, but we realize that this is a temporary issue," he said. "As you increase the production scale of materials, prices will decrease. One example are LED lamps that today are more expensive but already are about to become more affordable."
At the other end of the city, at the Rio+20 conference, developing country delegates also expressed concerns that "sustainable development" is more expensive than the dirtier, resource-intensive system erected by the West in the last century. Mayor Paes disagreed, citing a new bus program in the poorest part of Rio.
"I don't think it's expensive," he tells reporters. "Sustainable development makes the life of people much, much easier. Sustainable development has to do with the empowerment and enrichment of the city."
Bloomberg goes further. "It's not costing money, it's actually saving money. It's creating money," he said. "If people spend time at work or at school or at home or wherever they go on vacation, rather than sitting in a bus that's crawling at 1 mile an hour, everybody benefits."
The New York mayor is founder and majority owner of Bloomberg News's parent, Bloomberg LP.
The day after the tour of Babilonia, hundreds of protesters streamed through a favela across a highway from the sprawling conference venue hosting Rio+20. Under one banner proclaiming "sustainability is urbanization," another read: "Green economy: the new color of the old social injustice."
Read complete Bloomberg News coverage of the UN Rio+20 Conference on Sustainable Development.
Visit www.bloomberg.com/sustainability for the latest from Bloomberg News about energy, natural resources and global business.
-0- Jun/21/2012 12:57 GMT
Before it's here, it's on the Bloomberg Terminal.
LEARN MORE