Germany Says No to European Car Aid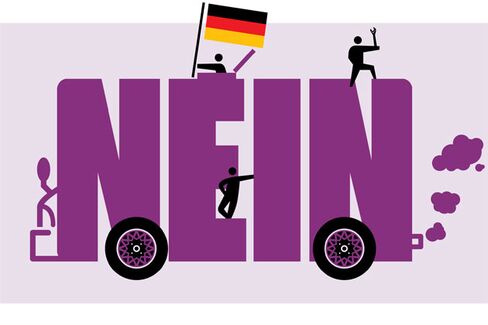 German Chancellor Angela Merkel has made headlines with her hard-line stance against bailing out deeply indebted neighbors in Europe. One reason for her recalcitrance: The fiscally conservative Germans aren't eager to help pay for others' profligate behavior. Now German automakers are proving just as resistant to pleas from embattled peers seeking government aid to reduce car manufacturing overcapacity in the region.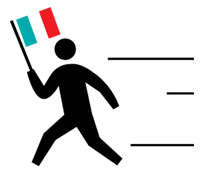 Volkswagen, Daimler, and BMW are resisting calls by Fiat Chief Executive Officer Sergio Marchionne for the European Union to support the closing of unprofitable auto plants in the region. And so far, Marchionne's call for shared sacrifice has gone largely unheeded. "If you do a plan which distributes closures across countries, it's easier to sell it," argues Marchionne, who also serves as president of European auto industry lobby ACEA. "You can't ask Italians to be the only ones who feel the pain of closures. They should go to France, Italy, Germany."
Europe's car market will contract 7 percent this year, ACEA forecasts. At the same time, overcapacity in Western Europe may more than double to about 2 million vehicles in 2012 as sales fall for the fifth straight year, according to IHS Automotive. Yet German carmakers are enjoying high export demand thanks to the popularity of their brands in China and the U.S. That's why VW, BMW, and Daimler's Mercedes-Benz unit are using more than 90 percent of the capacity in their European factories, compared with rates of 60 percent to 75 percent for other carmakers in the region, according to Philippe Houchois, a London-based analyst with UBS.
Italy's Fiat and PSA Peugeot Citroën and Renault of France are bearing the cost of unneeded factories and workers, which UBS estimates at €7.4 billion ($9.2 billion) a year. "There's a clear problem of excess of supply in Europe, which has worsened because of the economic downturn," says Pierluigi Bellini, an analyst with IHS Automotive in Milan. "I don't see Marchionne succeeding in his efforts to get a European plan for the industry as German carmakers, especially BMW and Daimler, are running at almost full capacity."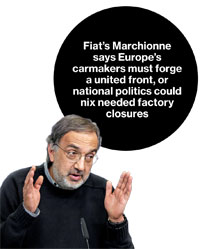 Marchionne is urging the EU to create a pan-European set of investment and labor rules governing car plant closings. This might include channeling some of the EU's job retraining funds to auto workers who lose their jobs. That's similar to the plan the commission designed for the steel industry in the 1980s, which included capacity cuts and temporary lifting of competition rules. But German carmakers don't consider it their problem. "We do not want to comment on the topic, because we do not have any overcapacities," says Bettina Singhartinger, a spokeswoman for Daimler, which is doing so well that it opened a new €800 million plant in Hungary in March. VW, BMW, and the German auto industry lobby VDA also declined to comment.
Marchionne, who along with other auto executives discussed the industry's outlook on June 6 with the European Commission, the EU's executive body, bristles at the stalemate. "It's ridiculous," he says. "The Germans … say they have no plant to shut down. I know that at least two plants in Germany [are not doing well financially]."
While the automakers could close factories on their own, the political repercussions could be so incendiary in some nations that companies would prefer to have EU political cover. Marchionne says carmakers are not asking for EU funding to cut capacity. Still, early proposals include other incentives that could be used to blunt some of the costs of idling spare plants. Antonio Tajani, the European Commissioner for industry, for instance, presented a plan this month to help the industry that included boosting support for green-car research to €1.5 billion in the 2014-2020 budget. The commission also seeks to simplify rules for automakers, including environmental regulations, and to apply stricter conditions on trade agreements to take into consideration the impact on the industry, Tajani says.
Politicians in individual countries are reluctant to give up local auto jobs, even if it's a smart move longer-term. Peugeot CEO Philippe Varin was summoned in April by then-French President Nicolas Sarkozy after Peugeot workers called on the politician to help stave off possible layoffs at French auto plants. François Hollande, Sarkozy's successor, has vowed to protect French jobs as well.
Continental authorities in Brussels, however, are considered less subject to such political pressure. "There must be a European solution to this issue, which is a European issue," says Pierre-Olivier Salmon, a spokesman for Peugeot in Paris. Renault, which is 15 percent owned by the French government, declined to comment.
Fiat became Europe's first carmaker to close a factory in its home market since the 2008 financial crisis when it shut a plant in Sicily in December. Before that, General Motors was the only other carmaker to shut a plant in the past four years, closing one operated by its Opel unit in Antwerp, Belgium, in 2010. GM on June 13 said it may stop production at another Opel plant in Bochum, Germany, after 2016.
Peugeot plants in the French cities of Aulnay and Rennes are most at risk of being closed, according to union leaders. "The situation is unbearable in the short term" for Renault and Peugeot, says Xavier Caroen, an analyst at Kepler Capital Markets in Zurich. "The risk is the same: potentially losing money on each vehicle that is produced in plants that are not used at their full capacity."
German carmakers' lack of support stems from their successful global expansion decades ago. China and the U.S. today are BMW's two largest markets, while VW's biggest is China. But Fiat only reentered the U.S. market in 2011 after a 28-year absence and this year is opening its first China factory after more than a decade of failed attempts. Meanwhile, Peugeot and Renault don't operate in the U.S. at all, and lag far behind the market leaders in China.
Before it's here, it's on the Bloomberg Terminal.
LEARN MORE