U.S. Stocks Rise on Stimulus Bets While Spain Yields Jump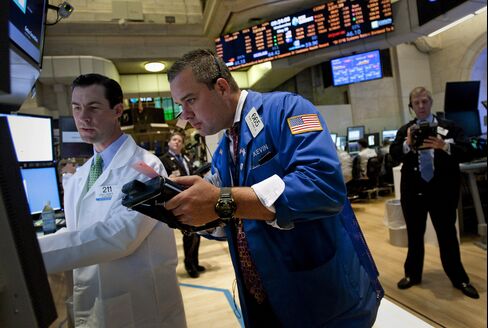 Stocks rebounded from yesterday's slump amid speculation policy makers will do more to stimulate the economy and protect European banks. Spain's 10-year bond yield touched a euro-era record high as Fitch Ratings downgraded some Spanish lenders.
The Standard & Poor's 500 Index added 1.2 percent to 1,324.18 at 4 p.m. in New York after tumbling 1.3 percent yesterday. The Stoxx Europe 600 Index rose 0.6 percent. The 10-year Spanish yield increased as much as 33 basis points to 6.83 percent, before trimming gains and trading at 6.71 percent. The S&P GSCI Index of commodities lost 0.2 percent as wheat and corn tumbled more than 2 percent. Ten-year Treasury yields rose eight basis points to 1.66 percent.
Gains in stocks followed remarks by Federal Reserve Bank of Chicago President Charles Evans that he would support more stimulus. The European Central Bank backed European Commission proposals for a banking union based on three pillars: Strengthening euro-area supervision of lenders, establishing a deposit guarantee program and "minimizing the risks for taxpayers" through contributions from the financial industry.
"It has been a bit schizophrenic," said Mark Luschini, chief investment strategist for Philadelphia-based Janney Montgomery Scott LLC, which manages about $54 billion. "What's taking place in the Spanish bond market is troubling. Yet pessimism is so high that the prospect of any relief would be enough to jump-start a rally in equities."
Market Leaders
Commodity, financial and industrial shares rose at least 1.6 percent to lead gains in all 10 of the main industries in the S&P 500. Boeing Co. jumped 3.5 percent as Sanford C. Bernstein & Co. raised its rating and the company was poised to win the first order by a lessor for its 737 MAX jets. Textron Inc. rallied 4 in New York and Bombardier Inc. surged 6 percent in Toronto as Warren Buffett's Berkshire Hathaway Inc. agreed to buy planes from the companies.
Boeing led gains in the Dow Jones Industrial Average, followed by advances of at least 2.5 percent in JPMorgan Chase & Co., Bank of America Corp. and DuPont Co. The Dow surged 162.57 points to 12,573.80. JPMorgan advanced before Chief Executive Officer Jamie Dimon is scheduled to testify before Congress tomorrow about his firm's $2 billion trading loss.
The S&P 500 erased an early rally yesterday and ended the session with its biggest decline in more than a week as early investor optimism over Spain's request for bailout funds to help its banks was met with skepticism that the rescue will tame the crisis.
'Downward Pressure'
Fitch said today that euro-area countries face lower ratings because policy makers are failing to demonstrate they can bring the debt crisis under control and predicted Spain will miss budget-deficit targets. Bond ratings in the euro currency bloc are under "strong downward pressure," Fitch Managing Director Ed Parker said in Oslo today.
The Fed is scheduled to meet next week and announce its rate decision on June 20.
"I've been in favor of pretty much any accommodative policy I've heard about," Evans said in an interview on Bloomberg Television's "In the Loop" with Betty Liu airing today. "Extending the Twist would be useful," he said, referring to a plan expiring this month that lengthens the average duration of bonds in the Fed's portfolio.
Commodities Retreat
All but seven of 24 commodities tracked by the S&P GSCI Index declined. Corn fell the most in two weeks, dropping 1.4 percent, as the U.S. Department of Agriculture forecast global inventories will rise to the highest level in 11 years. Wheat slid 2.3 percent after the USDA said stockpiles will be larger than analysts expected. Oil rose 0.8 percent to $83.32 a barrel, rebounding from an eight-month low.
The dollar weakened against 12 of 16 major peers, with the currencies of Australia and New Zealand appreciating about 1 percent to lead gains. The euro climbed 0.2 percent to $1.2505, reversing a 0.3 percent slump in the morning.
Optimism among global asset allocators "collapsed" this month as Europe's debt crisis prompted money managers to sell equities and hoard cash to the highest level since 2008, a Bank of America Corp. survey showed.
Hoarding Cash
Respondents, who together manage $522 billion, reduced their holdings in stocks to underweight for the first time in seven months, meaning they now own less than are represented in indexes. Cash balances surged to 5.3 percent in June, the third-highest level on record, while an index of risk and liquidity sank to 30, the lowest level since September 2011.
The Stoxx 600 climbed even as three shares retreated for every two that rose in the regional benchmark.
TomTom NV rallied 16 percent after Apple Inc. agreed to use its digital maps. Lafarge SA rose more than 2 percent after announcing plans to increase earnings by 54 percent by 2015. Lagardere SCA retreated 2.4 percent after the company lowered its advertising-revenue target.
Spain's 10-year bond yield and the cost of insuring against a default by the nation each rose for a third day, with credit-default swaps increasing 12 basis points to 607. The price was at a record 613.5 basis points on June 1.
Italy's 10-year yield increased 14 basis points to 6.17 percent after reaching 6.30 percent, the highest since January. Germany's 10-year bund yield climbed 12 basis points to 1.42 percent, with France's yield rising 17 basis points to 2.73 percent.
'Final Outcome'
"We're going to just keep playing this game until there's some final outcome of what's going to happen with the euro," Tom Wirth, who helps manage $1.5 billion as senior investment officer for Chemung Canal Trust Co., based in Elmira, New York, said in phone interview. "Europe is a total disaster."
The European Financial Stability Facility plans to raise at least 1 billion euros through a sale of bonds due April 2037 as banks in Norway and Germany sell relatively safe covered bonds after yesterday's surge in non-financial deals.
Italy plans to auction at least 9.5 billion euros ($11.9 billion) of debt this week as yields climb for Europe's most-indebted countries following Spain's request for a bailout. Greece holds elections June 17 that may determine the country's future in the euro.
The MSCI Emerging Markets Index slipped 0.2 percent, after closing yesterday at the highest level since May 29. The Shanghai Composite Index, South Korea's Kospi and Taiwan's Taiex Index slid at least 0.7 percent. The ISE National 100 Index advanced 1.2 percent as Tupras Turkiye Petrol Rafinerileri AS jumped 2.7 percent after the U.S. said Turkey was among nations that would be exempt from sanctions for buying Iranian oil. Poland's WIG20 Index and India's Sensex Index climbed more than 1 percent.
Before it's here, it's on the Bloomberg Terminal.
LEARN MORE