Obama Shouldn't Embellish His Small Business Record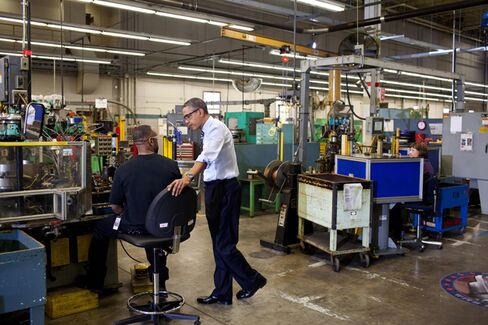 Presidential candidates have long emphasized their efforts to help small business owners. Three-quarters of Republicans, Democrats, and independents view these embodiments of the American Dream favorably, according to a recent Pew Foundation poll. Therefore it's not surprising that the White House recently highlighted the president's work on behalf of small business owners. "From the moment he took office," the 82-page report (PDF) from the National Economic Council says, "President Obama has fought tirelessly to … invest in entrepreneurs and small businesses." There's just one problem: Much of what the report claims isn't true.
Consider small business lending. The report credits the president with "helping small, main street banks provide more loans to help small businesses." But bank credit to small business has dropped dramatically since the president took over. From 2008 through 2011, the last year that data are available, the Small Business Administration shows (PDF) that the number of business loans of less than $1 million—a commonly used measure of small business credit—fell 22 percent and the value of the loans declined 18 percent in inflation-adjusted terms.
Other sources show an even worse picture. Using data collected from banks under the Community Reinvestment Act, the Federal Financial Examination Council shows that the number of loans to businesses with less than $1 million in sales fell 60 percent from 2008 to 2010, the latest point for which data are available. Moreover, the value of those loans dropped 41 percent when corrected for inflation.
Now consider regulation. The National Economic Council report says that the president has cut "red tape" on small business. At the end of 2011, however, the number of federal rules affecting small business stood at 822, up from 753 at the end of 2008, according to a report (PDF) by the Competitive Enterprise Institute. Therefore it's not surprising that small business owners deem regulation a bigger problem than before President Obama took office. In December 2008, the month before the president was sworn in, only 8 percent of respondents to the National Federation of Independent Business's monthly survey of its members reported (PDF) that "government regulations and red tape" were the single most important problem they faced. In April, that fraction was up to 20 percent.
A third area where the data belie the administration's position is health care. The National Economic Council claims the president has lowered what small employers pay for health insurance. Data compiled by the Kaiser Family Foundation, however, reveal that premiums for employee health insurance have gone up in inflation-adjusted terms. For example, the average premium for family coverage for a small business employee increased 12 percent after taking into account inflation from 2008 through 2011.
Some of the report's claims are accurate. Small business exports did increase under the current administration. Census numbers show that the small business portion of total exports rose from 31.5 percent in 2008 to 35 percent in the third quarter of 2011. The claim that "the administration … is committed to ensuring an appropriate share of its contracting needs goes to small businesses" is accurate. The small business share of federal contracting increased from 21.5 percent in 2008 to 22.7 percent in 2010, the most recent year data are available. A far smaller fraction, however, of small companies export or receive federal contracts than seek bank credit, face rising health-care costs, or need to adhere to federal regulations.
In truth, the president isn't directly responsible for much that can help or hurt small business. Thus I wouldn't criticize him if he said that what's been happening in the small business economy over the past four years is outside his control. But if he and his team are going to say he has moved the needle for small business, we need to consider the veracity of those claims.
Before it's here, it's on the Bloomberg Terminal.
LEARN MORE