China's Stocks Fall After Rate Cut, Capping Worst Week This Year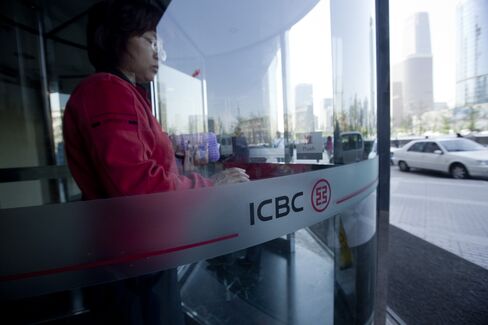 China's stocks fell, capping the biggest weekly slide this year, after the country's first interest-rate cut since 2008 intensified concern that the economic slowdown is deepening.
Industrial & Commercial Bank of China Ltd. and China Construction Bank Corp. led declines for lenders after Nomura Holding Inc. and BoCom International Holdings Co. said the rate cut will hurt bank earnings. Anhui Conch Cement Co., China's biggest cement maker, tumbled 2.8 percent after the company estimated first-half profit may have dropped more than 50 percent. Jiangxi Copper Co. paced a retreat for metals producers before tomorrow's release of May economic data that may show fixed-asset investment expanded at the slowest pace in a decade.
"Investors are quite concerned the data tomorrow may be very bad," said Zhang Yanbin, an analyst with Zheshang Securities Co. in Shanghai. "Investors are still contemplating the effects of the interest-rate cut."
The Shanghai Composite Index slid 11.68 points, or 0.5 percent, to 2,281.45 at the close. The index sank 3.9 percent this week, the most since the five days ended Dec. 16. The CSI 300 Index fell 0.7 percent to 2,542.33. The Bloomberg China-US 55 Index, the measure of the most-traded U.S.-listed Chinese companies, rose 2.7 percent in New York yesterday.
The Shanghai index has retreated 7.3 percent from this year's high on March 2 on concern Europe's debt crisis is hampering exports from the world's second-largest economy. Stocks in the measure are valued at 9.86 times estimated earnings, compared with the five-year average of 17.9, according to weekly data compiled by Bloomberg.
Rate Cut
ICBC paced declines for banks in Shanghai, retreating 0.7 percent to 4.16 yuan. Construction Bank, the country's second-largest bank, lost 0.9 percent to 4.45 yuan. China Merchants Bank Co. tumbled 2.9 percent to 10.92 yuan.
China cut the lending and deposit rates by 0.25 percentage point respectively, the People's Bank of China said yesterday. The PBOC also said banks may pay as much as 10 percent more than the benchmark on deposits, the first time a premium is being allowed. Lenders are also permitted to offer a 20 percent discount on borrowing costs, wider than the previous 10 percent, effective today.
China cut borrowing costs and loosened controls on banks' lending and deposit rates before economic data tomorrow. Fixed-asset investment probably expanded at the slowest pace in a decade in May, inflation matched a two-year low and industrial output grew less than 10 percent for a second month, according to Bloomberg economist surveys.
Chinese stocks may underperform as a cut in rates will lower earnings of the nation's banks and hurt their share performance, according to Hao Hong, China strategist at BoCom.
Bank Earnings
Lenders' earnings may drop by more than 10 percent after the central bank reduced borrowing costs, he wrote in a report today. Banks are the most heavily weighted industry in benchmark indexes, he said. As a group, banks have a 23 weighting in the Shanghai Composite, according to data compiled by Bloomberg.
"With earnings under pressure while valuation multiples difficult to expand due to a lack of liquidity, banks are likely to underperform, and together with the market index performance," Hong said. The "rate cut is behind the curve and unlikely to excite much. But more cuts should be expected."
Anhui Conch fell 2.8 percent to 16.12 yuan after it said first-half profit may slump because of waning demand and lower product prices. Gansu Qilianshan Cement Group Co. lost 2 percent to 12.07 yuan. Huaxin Cement Co., the Chinese affiliate of Holcim Ltd., dropped 1.3 percent to 14.21 yuan.
May Data
The timing of China's rate cut suggests that economic data for May may be worse than expected, according to Bank of America Corp. economist Lu Ting.
"Growth worries could weigh on market sentiments," Lu said in a report to clients. Despite cuts in growth forecasts since mid-May, economists' consensus estimates may still be "too high" and they may further reduce their second-quarter GDP growth forecasts in coming days, he said.
Jiangxi Copper, China's biggest producer of the metal, slipped 0.9 percent to 24.48 yuan. Tongling Nonferrous Metals Group Co., the second largest, lost 2 percent to 20.51 yuan. Aluminum Corp. of China Ltd., the listed unit of nation's biggest maker of the lightweight metal, fell 0.5 percent to 6.57 yuan.
Today's decline trimmed the Shanghai Composite's gain this year to 3.7 percent this year. Thirty-day volatility was at 15.34 today, compared with this year's average of 18.69. About 6.03 billion shares changed hands in the measure yesterday, 32 percent lower than the daily average this year.
Billionaire Kenneth Fisher, who bought Chinese shares as they rallied from a 2-1/2 year low in the fourth quarter, said the stocks will beat global equities as the government takes further steps to boost growth.
China will loosen monetary policy for another 12 to 18 months, Fisher, chief executive officer of Fisher Investments, said in a phone interview yesterday. China represents about 6 percent of the Woodside, California-based firm's holdings, a bigger proportion than in benchmark indexes, Fisher said.