Manuel Preciado, Spanish Soccer Coach, Dies at 54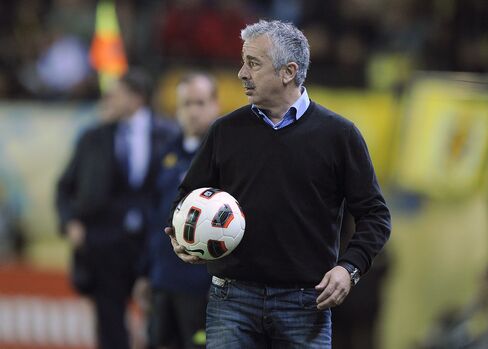 Spanish soccer coach Manuel Preciado died of a heart attack, a day after agreeing to become coach of the Villarreal team. He was 54.
Preciado died last night, Villarreal said on its website. He had been scheduled to hold his first news conference as its coach tomorrow.
He was Sporting coach from 2006 to January this year, leading it into Spain's top-tier La Liga in 2008 after a decade in the second division. He oversaw 232 games for Sporting, more than any other of its coaches apart from Jose Manuel Diaz. Preciado had shorter coaching stints at Levante, Murcia and Racing Santander.
Preciado was fired by Sporting in mid-season with the team second-last in La Liga. Both Sporting and Villarreal, a Champions League semfinalist in 2006 and La Liga runner-up in 2008, were eventually relegated.
In 2010, Preciado called Jose Mourinho a "scumbag" after the Real Madrid coach questioned Sporting's effort in losing 1-0 to Barcelona. They later made up, became friends and Preciado visited Mourinho at Real Madrid's training ground while out of work in March of this year.
Preciado's Sporting beat Real 1-0 at Santiago Bernabeu stadium in April last year, handing Mourinho his first home loss as a coach in nine years.
Before it's here, it's on the Bloomberg Terminal.
LEARN MORE