Mortgage Rates in U.S. Fall to Record Lows With 30-Year at 3.67%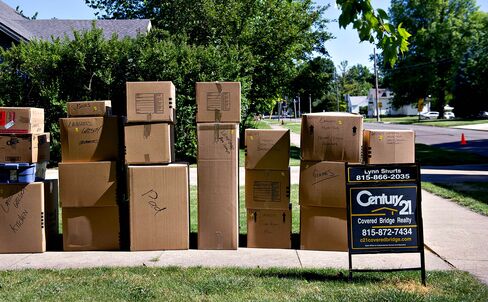 Mortgage rates in the U.S. dropped to record lows for a sixth straight week as concerns over slowing job growth pushed investors into the safety of government bonds that guide interest costs.
The average rate for a 30-year mortgage dropped to 3.67 percent in the week ended today from 3.75 percent, Freddie Mac said in a statement. It was the lowest in the McLean, Virginia-based mortgage-finance company's records dating to 1971. The average 15-year rate declined to 2.94 percent, also a record, from 2.97 percent.
The 10-year Treasury yield, a benchmark for mortgages, slipped to less than 1.5 percent for the first time on June 1 after a Labor Department report showed that U.S. payrolls climbed by 69,000 last month, the fewest in a year. Employment growth and low borrowing costs have been providing a foundation for the stabilization of the U.S. housing market.
"Low interest rates should be good news as long as people have a job," Sal Guatieri, senior economist for BMO Capital Markets in Toronto. said in a telephone interview. "But if we see unemployment rising, it could overwhelm the beneficial impact of lower mortgage rates and cause the housing market to weaken again."
Hovnanian Enterprises Inc., the largest homebuilder in New Jersey, reported an unexpected profit yesterday for the three months ended April 30, and a 52 percent jump in new contracts. Purchases of newly built homes rose 3.3 percent in April from the previous month to an annual pace of 343,000, the Commerce Department said May 23.
Home-loan applications in the U.S. gained 1.3 percent in the period ended June 1 from the prior week, according to the Washington-based Mortgage Bankers Association. The refinance index rose 2 percent, while the purchase gauge fell 1.8 percent.
Before it's here, it's on the Bloomberg Terminal.
LEARN MORE