Bernanke Sees Easing Options While Not Specifying Them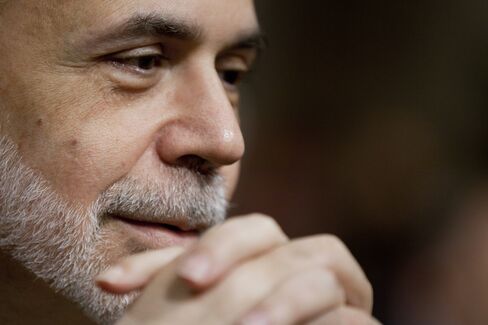 Federal Reserve Chairman Ben S. Bernanke told lawmakers the central bank has options for further easing while declining to specify them, and he described risks ranging from Europe's crisis to fiscal tightening in the U.S.
"If we decide that further action is required, then of course we have to decide what action is appropriate or what communications are appropriate," Bernanke said to the Joint Economic Committee today. "We do have options that we can consider."
Bernanke on June 19-20 will lead the Federal Open Market Committee in a policy-setting meeting confronting the slowest employment growth in a year and a widening crisis in Europe. His comments were more measured than those of Vice Chairman Janet Yellen, who yesterday outlined possible easing steps, such as buying more bonds or extending Operation Twist, the program to lengthen maturities of the securities the Fed already owns.
"Bernanke said they could do more, but it didn't seem like further quantitative easing or even an extension of twist was a done deal," said Drew Matus, a U.S. economist at UBS Securities in Stamford, Connecticut.
The Standard & Poor's 500 Index was little changed at 1,314.99 at the close of trading in New York after rising as much as 1.1 percent in response to China's decision to cut interest rates for the first time since 2008. The yield on the 10-year Treasury note declined to 1.64 percent from 1.66 percent late yesterday.
Financial Stresses
"The situation in Europe poses significant risks to the U.S. financial system and economy and must be monitored closely," Bernanke said in his testimony. "As always, the Federal Reserve remains prepared to take action as needed to protect the U.S. financial system and economy in the event that financial stresses escalate."
Bernanke warned lawmakers that "a severe tightening of fiscal policy at the beginning of next year that is built into current law -- the so-called fiscal cliff -- would, if allowed to occur, pose a significant threat to the recovery."
The 69,000 jobs employers added in May was less than half the number forecast by economists, and the April total was revised down to 77,000 from 115,000, Labor Department figures showed June 1. The unemployment rate unexpectedly rose to 8.2 percent from 8.1 percent for the first increase since June 2011.
"The main question we have to address has to do with the likely strength of the economy going forward," Bernanke said, describing the probable discussion at the next FOMC meeting. "Will there be enough growth going forward to make material progress on the unemployment rate?"
Diminishing Returns
Bernanke said that further rounds of stimulus could boost the economy, yet may have "diminishing returns" as interest rates are already near record lows. The Fed has purchased $2.3 trillion of bonds in two rounds of so-called quantitative easing.
The Commerce Department's June 13 report on retail sales will provide a gauge of the strength of consumer demand. Policy makers will also want to see what steps are taken to shore up the Spanish banking system and the outcome of elections in Greece on June 17, just two days before they meet.
"The Fed is closer to action, but the decision hasn't been made, and what happens between here and the meeting matters," said Michael Gapen, director of U.S. economic research and asset allocation at Barclays Plc in New York and a former Fed economist.
Two regional Fed bank presidents who vote on policy this year, San Francisco's John Williams and Atlanta's Dennis Lockhart, said yesterday the Fed should be prepared to take action if the economy deteriorates further.
More Stimulus
Lockhart said extending Operation Twist is an "option on the table," while Williams said the Fed should be ready to step up stimulus in case economic growth slows and threatens to delay improvement in the job market.
"Scope remains for the FOMC to provide further policy accommodation," Yellen said in Boston yesterday. "It may well be appropriate to insure against adverse shocks that could push the economy into territory where a self-reinforcing downward spiral of economic weakness would be difficult to arrest."
The central bank could try to spur growth by altering its pledge to keep interest rates "exceptionally low" at least through late 2014, Yellen said. The Fed adopted the 2014 time horizon in January, extending an earlier date of mid-2013.
By contrast, Bernanke's comments today showed "a notable lack of alarm," Gapen said. "It may simply be the case that he doesn't want to front-run the committee."
Fisher, Bullard
More easing isn't necessary, Dallas Fed President Richard Fisher and St. Louis Fed President James Bullard said in separate speeches on June 5. Additional stimulus would be "pushing on a string," Fisher said, while Bullard said there's time to assess the economy and no need to change policy now. The two regional bank chiefs don't vote on policy this year.
The central bank said yesterday in its Beige Book business survey that the U.S. economy maintained a moderate pace of growth from early April to late May as factory output rose and the real-estate market improved.
"Economic growth appears poised to continue at a moderate pace over coming quarters, supported in part by accommodative monetary policy," Bernanke said today. "In particular, increases in household spending have been relatively well sustained."
The outlook for inflation is "subdued," and price increases will probably remain at or slightly below the 2 percent level that's in line with the FOMC's goal to meet its dual mandate of stable prices and maximum employment, Bernanke said. Higher unemployment and retreating oil and gas prices "should continue to restrain inflationary pressures."
-- With assistance from Craig Torres in Washington. Editors: Christopher Wellisz, James Tyson
Before it's here, it's on the Bloomberg Terminal.
LEARN MORE