German, Spanish Factory Output Drops More Than Forecast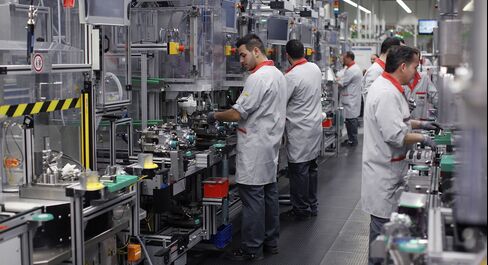 German industrial output fell more than economists forecast in April and Spanish production had the biggest drop in more than two years, adding to signs of a deepening economic slump across the euro area.
German production declined 2.2 percent from March, the Economy Ministry in Berlin said today. Economists had forecast a drop of 1 percent, according to the median of 37 estimates in a Bloomberg News survey. In Spain, output fell 8.3 percent from a year earlier, when adjusted for work days, a separate report showed.
The euro-area economy may struggle to gather strength in the current quarter after stalling in the previous three months as companies cut spending and jobs to weather the worsening debt turmoil. While economic confidence slumped in May and manufacturing output declined, the European Central Bank today will probably keep borrowing costs at 1 percent, a Bloomberg survey of economists shows.
"In the euro region, we're at the edge of a recession and industrial production will remain under pressure over the coming months," said Torge Middendorf, an economist at WestLB in Dusseldorf, Germany. "Anything but a signal for a rate cut would be disappointing."
The euro has dropped 6.4 percent against the dollar over the past month, bringing the decline this year to 4.3 percent. The common currency traded at $1.2499 at 1:13 p.m. in Frankfurt.
ECB Decision
The Frankfurt-based ECB will announce the rate decision at 1:45 p.m., followed by a press conference 45 minutes later. Thirty-two out of 44 economists in a Bloomberg survey forecast the central bank to keep the benchmark interest rate at 1 percent, while 11 predict a quarter-point reduction and one forecasts a half-point cut.
Finance ministers and central bank governors from the Group of Seven economies yesterday agreed to coordinate their response to the fiscal crisis, which already has pushed eight euro-zone nations into recessions, commonly defined as two consecutive quarters of contraction. The G-7 officials discussed "progress toward financial and fiscal union in Europe" on a conference call focused on Spain and Greece, officials said.
The euro-area economy failed to grow in the first quarter as companies cut spending, offsetting a gain in exports, the European Union's statistics office said today. Construction slumped 1.1 percent from the fourth quarter and consumer spending stalled, the data showed.
German Confidence
Economic indicators suggest the economy's slump deepened in the second quarter. German business confidence fell more than economists forecast in May, investors grew more pessimistic and manufacturing output declined. Euro-zone services and manufacturing output contracted at the fastest pace in almost three years in May and economic confidence slumped more than economists had forecast.
Spain yesterday called for outside support for the first time to battle the financial crisis as Budget Minister Cristobal Montoro said EU institutions should help shore up the nation's lenders. In Greece, elections last month failed to produce a government and saw support grow for parties opposed to austerity measures, raising the specter of breakup.
Bayerische Motoren Werke AG's head of sales and marketing in Germany, Karsten Engel, told reporters on May 31 that the carmaker's home market won't grow in 2012 as the debt crisis weighs on consumer spending.
Banking System
The ECB has shouldered the main burden of fighting the turmoil by flooding the banking system with more than 1 trillion euros ($1.25 trillion) in cash, cutting borrowing costs and buying government bonds. Still, ECB President Mario Draghi said on May 31 that it's "not our mandate" to "fill the vacuum left by the lack of action by national governments."
The ECB "must take the lead," said Michael Derks, chief strategist at FXPro Financial Services Ltd. in London. "With Europe cratering once more, it would be remarkable if the ECB did not decide to take at least some action" at today's meeting.
Before it's here, it's on the Bloomberg Terminal.
LEARN MORE