Beach House Rules 'Dream Pop' With Eerie 'Bloom': Music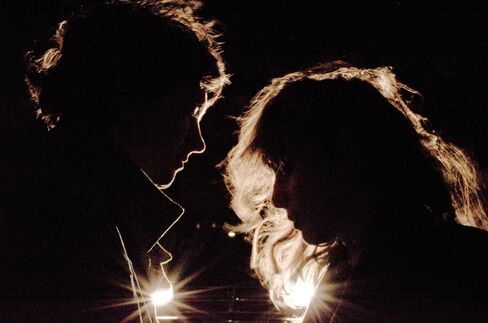 June 2 (Bloomberg) -- Fans without tickets lined up hopefully outside the sold-out Bowery Ballroom on May 15th. The hot Baltimore duo Beach House had quickly filled the intimate venue.
Lead singer and keyboardist Victoria Legrand and guitarist Alex Scally, current champions of the "dream pop" sound, were making the final stop of a two-week tour celebrating the release of their fourth record, "Bloom."
The new tunes stick with what has been working so well, building on the formula of their 2006 self-titled debut.
Joined by drummer Daniel Franz, they kicked off with the new album's "Wild." Lit by a white spot, Legrand offered her ethereal voice until a seated Scally cut through the song's slow burning with rippling guitar.
Legrand's repetitive synth notes opened "'Walk in the Park." A track from their 2010 release, "Teen Dream," the song was minimal with just a steady drum beat, shakers and a drifty guitar scale.
Again mining "Teen Dream," they delivered its stand-out "Norway" with a punch. Now on his feet, Scally rang out echoing guitar notes while purple lights shone on Legrand as she delivered shimmering vocals in this tempo-shifting, cat-and-mouse number.
Music Box
Then the prickly keyboards of "Bloom's" "Lazuli" evoked an enchanted music box. This is the eerie yet bright world Beach House conjures so well, with Legrand's voice hanging over Scally's carpet of plucked strings.
"Gila," from 2008's "Devotion," added to the intensity. The see-sawing new number "The Hours" combined a heavy dose of reverb with shifts from choppy guitar chords to swaying smooth listening -- a balancing act the two do well.
The beauty and power of "Bloom" again came through with the closer, "Myth," the album's opening track and first single. It ended with a powerful chorus and an explosion of echoing guitar.
For the encore, Legrand changed her dark blazer to a rainbow-colored blouse, which lent itself to the play of lights.
The slow, numbing "Turtle Island" started the encore, and then gave way to Scally's juggling guitar notes on "10 Mile Stereo." As intense as the music was this evening, its most chilling moments came with "Bloom's" closing number, "Irene."
'Strange Paradise'
Under blue lights, Scally thrashed, Franz pounded and Legrand soared higher and higher as she repeated the line "It's a strange paradise" over and over -- and then left it on a loop while the three quietly made their getaway.
Beach House is in Europe through mid-June and then returns to the U.S. in July for a national tour. Legrand and Scally have already sold out the meadowy space of Central Park SummerStage on July 23rd.
Here's a selection of New York-area shows in June. Please note that opening bands aren't always listed. Shows marked (SO) are sold out, although online services such as Craigslist often have tickets:


June 1
Radiohead/Caribou at Prudential Center (SO)
June 2
Lemonade/Teengirl Fantasy/Elite Gymnastics at Music Hall of
Williamsburg
June 3
Blondes/Holy Ghost (DJ set) at Dekalb Market
June 4
Omar Souleyman/Dengue Fever at Webster Hall
June 5
Jimmy Cliff at Prospect Park Bandshell (Free)
Alejandro Escovedo/Jesse Mallin at Bowery Ballroom
June 6
The Walkmen at Bowery Ballroom
June 7
Unknown Mortal Orchestra/Doldrums at Mercury Lounge
June 8
Rhett Miller & the Serial Lady Killers at Bowery Ballroom
June 9
How to Dress Well/Babe Rainbow/Aaron Read at Public Assembly
June 10
Bela Fleck & the Marcus Roberts Trio at Blue Note (8:00 & 10:30)
June 11
2:54/Widowspeak at Mercury Lounge
June 12
Jonathan Richman at Bowery Ballroom
June 13
The Maccabees/Wild Belle at Webster Hall
June 14
Mogwai at Webster Hall
Laura Marling at Prospect Park Bandshell (Free)
June 15
Caveman/Frankie Rose at Music Hall of Williamsburg
June 16
Dawes/Kurt Vile & the Violators at Central Park SummerStage
(Free)
June 17
Crystal Stilts/Amen Dunes/Var/Wymond Miles at Glasslands
June 18
The Heavy at Mercury Lounge (Late Show) (SO)
June 19
The Tallest Man on Earth/Strand of Oaks at Town Hall (SO)
June 20
Liars/Oneohtrix Point/Never at Webster Hall
June 21
Deer Tick/Jonny Corndawg at Red Hook Park (Free)
The Gaslamp Killer at Knitting Factory
June 22
The Hives at Terminal 5
Icona Pop at Glasslands
June 23
Bowerbirds at Music Hall of Williamsburg
June 24
Alabama Shakes/Diamond Rugs/Robert Ellis at Central Park
SummerStage (Free)
June 25
Ramesh at Glasslands
June 26
HITS (Formerly Jump Into the Gospel)/Hussle Club/Slam Donahue at
Mercury Lounge
June 27
Japandroids/Cadence Weapon at Bowery Ballroom (SO)
June 28
Young Magic/Quilt at Glasslands
June 29
Akron/Family at Brooklyn Bowl
June 30
The Feelies at Maxwell's

(Jaime Widder works in sales for Bloomberg News. Any opinions expressed are his own.)
Muse highlights include Lewis Lapham on books and Greg Evans on movies.
To contact the writer on this story: Jaime Widder in New York at jwidder@bloomberg.net or @Widder_Twidder.
To contact the editor responsible for this story: Manuela Hoelterhoff in New York at mhoelterhoff@bloomberg.net.