Danske Bank Cut With Eith Other Lenders by Moody's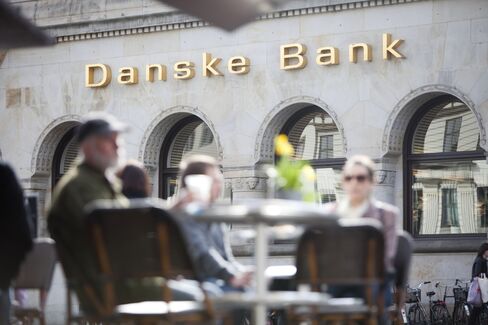 Moody's Investors Service downgraded nine Danish financial institutions, including the country's biggest bank, Danske Bank A/S, arguing loan books have deteriorated and debt refinancing has become harder.
Danish banks suffer from "a weak operating environment, pressurized asset quality and poor profitability," the rating company said late yesterday in a statement published out of London.
Danske Bank's deposit rating was cut two steps to Baa1 from A2, after Standard & Poor's yesterday cut the Copenhagen-based bank's long-term rating to A- from A. Nykredit Realkredit A/S, the country's largest mortgage lender and Europe's biggest issuer of covered bonds, was cut three levels to Baa2. Pohjola Pankki Oyj of Finland was cut to Aa3 from Aa2, in a separate statement.
The downgrades are souring client relations with the rating company. Moody's has already been fired by a number of Danish lenders, including Nykredit, amid disagreements over the rater's methodology. Danske Bank Chief Executive Officer Eivind Kolding criticized Moody's in an interview this month for its stance on systemic support. The bank's mortgage arm sacked Moody's less than a year ago, while Nykredit terminated its contract with the rater in April.
'An Opinion'
"Credit ratings are an opinion and fortunately in our part of the world, everybody has the right to an opinion," Jesper Berg, head of ratings and regulatory affairs at Nykredit, said in an interview. "However, per definition opinions can also be, and often are, different. Nykredit has stopped its cooperation with Moody's and by implication, we have also stopped providing Moody's with data and other input for their ratings."
Denmark's bank industry is struggling to emerge from the fallout of its 2010 bail-in package, Europe's only resolution framework requiring senior creditors to share losses. Five lenders have failed since last year as a burst real estate bubble and a regional banking crisis sap demand, throwing the economy into a recession in the second half of 2011.
Danske Bank shares were unchanged at 79.3 kroner as of 11 a.m. in Copenhagen, leaving this year's gains at 8.7 percent. Nykredit is privately held.
"There isn't really any news from Moody's in these cuts as they are only mentioning reasons they've named before," Claus Groen Therp, an analyst at SEB AB in Copenhagen, said by phone. "I won't say Moody's views don't matter, but investors are looking less and less."
Loan Losses
Danish loan impairments won't ease this year from levels endured in 2011 as rules enforced since April take a bigger toll on lenders than the industry predicted, Per Tornqvist, an analyst at S&P based in Stockholm, said in an interview this month.
S&P estimates total loan losses at Danish banks swelled to 155 billion kroner ($26 billion) in the four years through 2011, with another 30 billion kroner in writedowns yet to be taken. Danske accounted for almost half the industry's bad loans, according to S&P.
Danske said in a separate statement it "does not understand Moody's very negative view" of the Danish banking industry. It also questioned the reasoning for S&P's downgrade yesterday.
Close Dialogue
"We have had a close dialogue with Moody's in recent months," Henrik Ramlau-Hansen, Danske's chief financial officer, said. "We are certain that Moody's has heard our arguments, but we do not think they are reflected in the rating the bank has received."
Denmark, which holds the rotating European Union presidency, said this month it won backing in the 27-member bloc to curtail the influence of rating companies. Business Minister Ole Sohn said May 21 ratings often misrepresent credit risks and his ministry is pushing for more competition among raters inside Europe as well as better access to suing rating companies that fail to do their job properly.
Other Danish banks cut two steps by Moody's were Jyske Bank A/S and Sydbank A/S while Spar Nord Bank A/S and Ringkjoebing Landbobank A/S were cut by one level.
Moody's also lowered by three levels the rating of mortgage lender DLR Kredit A/S. Ship finance company Danmarks Skibskredit A/S was also cut three levels.
Before it's here, it's on the Bloomberg Terminal.
LEARN MORE