Lille's Eden Hazard Says He's Chosen to Join Chelsea Next Season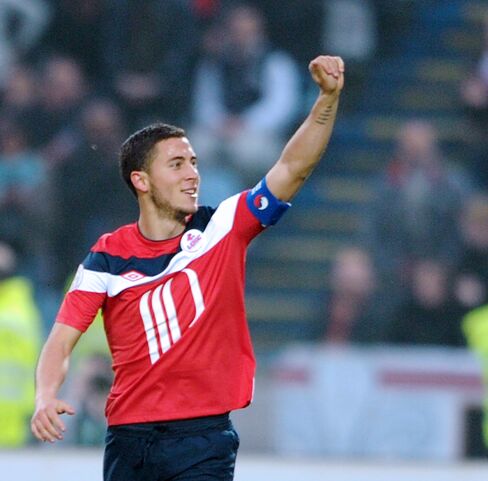 Lille forward Eden Hazard, the two-time player of the year in French soccer's elite Ligue 1, said that he's joining European champion Chelsea.
"I'm signing for the Champions League winner," Hazard, a 21-year-old Belgian international, said on his Twitter account late yesterday.
Chelsea will pay Lille about 40 million euros ($50.1 million) for Hazard, who is set to sign a five-year contract worth 9 million pounds ($14.1 million) a year, the Daily Telegraph reported, without saying where it got the information.
Hazard, who scored 17 goals and had 15 assists for Lille in 37 league games last season, said earlier yesterday that he had "made up my mind" about which club to join. He'd also been linked with a move to Manchester City or Manchester United in U.K. media reports and had previously said he would sign for one of the Manchester clubs, without specifying which.
Hazard would become the fourth Belgian on Chelsea's roster, joining striker Romelu Lukaku, winger Kevin De Bruyne and goalkeeper Thibaut Courtois.
Chelsea, owned by Russian billionaire Roman Abramovich, finished 25 points behind champion Manchester City in England's Premier League last season, though won the F.A. Cup and Champions League.
Since winning its first European Cup title by beating Bayern Munich in a penalty shootout on May 19, the London club has released striker Didier Drogba, defender Jose Bosingwa and forward Salomon Kalou, who all started the final.
Abramovich is yet to appoint a permanent manager to replace Andre Villas-Boas, who was fired in March. Roberto Di Matteo was named as interim manager for the final 11 weeks of the season.
Before it's here, it's on the Bloomberg Terminal.
LEARN MORE