Gold Rises as China Stimulus Spurs Inflation-Hedge Demand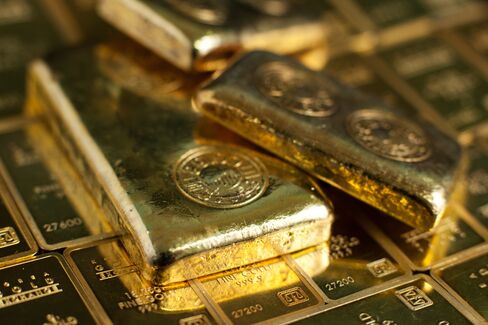 Gold declined for the first time in three sessions as the dollar advanced on concern that Spain's financial situation is worsening, lowering the appeal of precious metals as an alternative investment.
The dollar rose as much as 0.2 percent against a basket of six currencies after Egan-Jones Ratings Co. reduced its credit rating for Spain to B from BB-. The dollar has gained 4.8 percent this month, while gold retreated 6.8 percent.
"Gold reversed its course as the downgrade increased fears of Europe's crisis worsening," Sterling Smith, a commodity market analyst at Citgroup Inc.'s institutional client group, said in a telephone interview from Chicago. "The dollar is being favored."
Gold futures for August delivery dropped 1.3 percent to settle at $1,551 an ounce at 1:46 p.m. on the Comex in New York, the first decline for a most-active contract since May 23. Floor trading was closed yesterday for the U.S. Memorial Day holiday.
Bullion purchases by India, the world's biggest consumer, may be about 50 metric tons to 60 tons this month, down from 102 tons a year earlier, according to Prithviraj Kothari, the president of the Bombay Bullion Association.
Silver futures for July delivery slumped 2.1 percent to $27.791 an ounce on the Comex.
On the New York Mercantile Exchange, platinum futures for July delivery advanced 0.1 percent to $1,428.10 an ounce, rising for the third straight session. Palladium futures for July delivery jumped 2.4 percent to $606.05 an ounce, the biggest gain since April 26.
Before it's here, it's on the Bloomberg Terminal.
LEARN MORE