How to Smear Sunblock on a Planet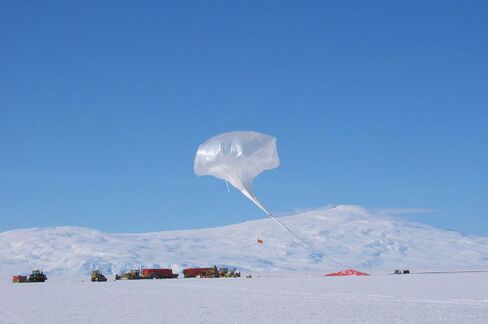 By Regina Cline
Similar to the way a slather of sunscreen can help prevent sunburn, one of its ingredients—titanium oxide—could be injected into the stratosphere to help keep the Earth from overheating, according to a British chemical engineer.
Peter Davidson, former senior innovation adviser to the United Kingdom's Department of Business Enterprise and Regulatory Reform, wrote in the May issue of the chemical engineering journal tceToday that TiO2, which is also used in paint and inks, is nontoxic, readily available, and could be a low-cost solution if the planet gets too hot to handle.
He said TiO2 particles in the stratosphere would scatter light and bounce heat back into space, which would have a cooling effect on the Earth.
However, he said such geoengineering, which the Intergovernmental Panel on Climate Change calls the "deliberate large-scale manipulation of the planetary environment," should be a Plan B, or an insurance policy, in the event that greenhouse gas emissions can't be reduced before reaching catastrophic levels.
Geoengineering, in other words, should not be a substitute for controlling greenhouse gas emissions, he said.
Another caveat—it'll take years of slow and careful research and testing. However, Davidson said during a May 15 webinar that it would be better to avoid a "Manhattan-style project" by starting now before such technology is critically needed, possibly by mid-century.
According to a World Climate Change Report article, concern is growing about how countries will adapt amid predictions that average global temperatures will increase more than the 2 degree Celsius (3.6 degree Fahrenheit) level scientists have identified as a tipping point for catastrophic impacts.
The most recent scientific projections show a 4 C (7.2 F) rise in global average temperature is likely by 2050 if current trends continue.
Deployment Systems Analyzed
Most geoengineering projects fall into one of two categories: carbon dioxide removal, such as carbon sequestration, and solar radiation management, which Davidson is proposing.
To be effective, he said TiO2 would have to be released 20 kilometers (12.4 miles) up into the stratosphere. Aircraft as a delivery system, which would require a certain amount of sophistication and leave a carbon footprint, is probably not the answer, Davidson said. Also, releasing free-flying balloons with TiO2 probably wouldn't work either—that would risk covering the Earth with latex, he added.
Instead, Davidson said releasing a TiO2-filled balloon tethered to the Earth may be the solution.
As a first step, Davidson envisions a benign test using a ubiquitous gas such as nitrogen being conducted between 2013 and 2017 while nations grapple with governance, ethical, social, legal, and environmental issues related to geoengineering.
Between 2018 and 2020, a very small-scale plume could be injected from an equatorial island or a ship somewhere in the ocean near the equator to avoid threats from lightning, storms, icing, and aircraft. Then, between 2020 and 2040, the project would be ramped up until a "statistically' significant effect is reached.
`A Long Way to Go'
Davidson acknowledges there's a long way to way to go in convincing others—especially nongovernmental organizations—to climb on board the geoengineering bandwagon.
As detailed in a World Climate Change Report article, international legal constraints are among the issues that countries would need to address if geoengineering is one day deployed.
For example, there is concern that its deployment could constitute "dangerous anthropogenic interference with the Earth's climate system" which is prohibited under the U.N. Framework Convention on Climate Change, to which 194 nations are party.
Furthermore, the idea that a geoengineering feat could be decided by a few people for everyone in the world raises many questions about governance.
Meanwhile, IPCC is expected to include its first comprehensive review of the risks and benefits of geoengineering in its Fifth Assessment Report due in 2014.
A statement released by IPCC following a meeting in June 2011 indicates that there's still a lot of ground to cover. It said discussions in policy circles about geoengineering "remain rather abstract," given "major uncertainties" about the potential impacts and side effects of various technologies.
Davidson is not deterred and said there's confidence in TiO2 chemistry for which there is a natural analog—sulfuric acid, which is spewed from volcanoes and helps cool the Earth.
Regina Cline is Senior Web Editor for Bloomberg BNA's World Climate Change Report blog.
Visit www.bloomberg.com/sustainability for the latest from Bloomberg News about energy, natural resources and global business.
-0- May/18/2012 16:25 GMT
Before it's here, it's on the Bloomberg Terminal.
LEARN MORE